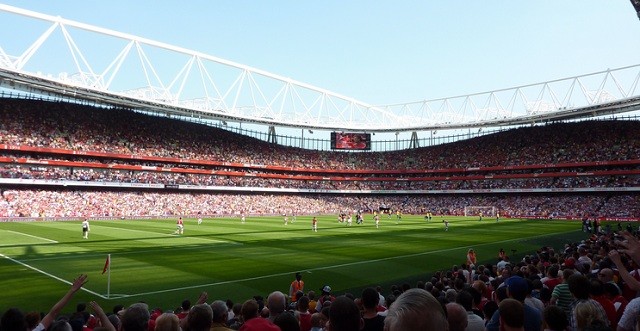 Arsenal starts the New Year at St. Mary's Stadium in what will be a tough match against 4th place Southampton.
Their last meeting was only a month ago at the Emirates, with Arsenal winning 1-0 thanks to an 89th-minute Alexis Sanchez goal. Fraser Forster, Southampton's goalkeeper, was the man of the match on the day, making a string of top class saves, denying Arsenal a larger margin of victory.
This will be a different match though than the last, as Arsenal are somewhat depleted up front due suspension and injuries. Southampton are on the back heels of an impressive performance against Chelsea, while Arsenal are recovering from a hard fought, but deserved win at West Ham.
Olivier Giroud will miss out as he is serving the second match of his three game suspension, while Danny Welbeck could also miss out due to a reported thigh injury. This may allow Tomas Rosicky to return to the starting lineup, pushing Alex Oxlade-Chamberlain out wide right, and Alexis in the center.
Theo Walcott should finally feature in the squad, albeit more likely from the bench as Arsene Wenger believes Walcott has the fitness, but not the matches to start yet. A decision to start Walcott or Lukas Podolski, will likely be made on match day.
Here is Arsenal's probable starting lineup:
Goalkeeper – Szczesny
No surprises here as the Pole has been in excellent form the past week, and David Ospina has done nothing to prove he is more deserving.
Right Back – Debuchy
Mathieu Debuchy only recently returned from injury, but with Calum Chambers in need of rest, Debuchy will have to start even if a rest may be best for him.
With Arsenal's FA Cup match against Hull City coming up on Saturday, it's likely the Frenchman will get his rest then.
Center Back – Mertesacker & Koscielny
Laurent Koscielny returned, once again, to first team action and showed no signs of aggravating his injured Achilles. Koscielny will most likely be in and out of the squad the entire season due to his Achilles' issues, but Arsenal will take advantage of his availability while they can.
Per Mertesacker looks like a different player with his French partner on the field, and he will benefit from Koscielny's presence the most.
Left Back – Gibbs
Kieran Gibbs was rested over the weekend, making a 5-minute cameo to reinforce Arsenal's defense in the last part of the match against West Ham. This rest was well deserved and will do him good. He should return to reclaim his first team spot ahead of an impressive Nacho Monreal.
Defensive Mid – Flamini
Mathieu Flamini has been one of Arsenal's unheralded players of the month so far. He has yet to miss a game this month, and has been nothing but consistent. Arsenal's recent defensive stability, and string of consistent performances are in large part due to Flamini's improved performances, anchoring Arsenal's midfield and protecting the back four.
Center Mid – Rosicky
Francis Coquelin did an excellent job playing next to Flamini over the weekend, but the return of Rosicky means Coquelin will find his spot on the bench again.
Rosicky looked excellent against QPR a week ago, and was rested against West Ham due to his return from injury. Wenger will be hoping for another impressive start from Rosicky, as the midfield battle will be key against Southampton.
Attacking Mid – Cazorla
Ideally, Santi Cazorla wouldn't start this match as he has played so many this month already. However, there aren't other options, in large part due to Welbeck's injury, which forces the Ox back to a wide position.
Cazorla for his part though, hasn't shown much sign of fatigue just yet. It's unlikely he plays in the FA Cup matchup over the weekend, if Rosicky comes out of this game healthy.
Wide Right – Walcott
Ultimately Wenger will have make a decision between starting Walcott or Podolski in this match, and due to Walcott's better defensive capabilities compared to Podolski's, Wenger will opt for Walcott.
Neither player has much game time under their belt, but in the end Walcott may be more deserving. Clearly Podolski has not shown the manager anything in training if he hasn't featured at all during the busy festive period.
This will be a homecoming of sorts for Walcott, as he came through Southampton's youth academy. This won't be his first time playing at his former club though.
When Walcott does operate on the right, he operates more as a wide forward, so look for much of the countering to either end here, or see a lot of through balls come in this direction. Walcott will be one of three pacey forwards Wenger will look to deploy, hoping to catch Southampton on the counter.
Wide Left – Oxlade-Chamberlain
The Ox is another product of the Saints highly productive youth academy.
Due to Welbeck's injury, Oxlade-Chamberlain will be pushed out to the left, allowing Walcott to play in his more natural wide right position. This won't bother Chamberlain as he is a versatile player, and it will allow him to cut inside on his stronger foot, and then catch defenders out by using his pace to get past them, out wide.
Center Forward – Alexis
Alexis will be the third cog in an incredibly fast front three for Arsenal. He has been deployed here a couple times this month, mostly towards the end of games, in large part to preserve his health. When he is played here, he is required to do less defending, which means less physical challenges and less running.
This tactic will again be deployed, allowing Alexis to somewhat preserve his body.
If Welbeck is fit, it's likely we see Welbeck out left and still see Alexis in the center, with the Ox replacing Walcott on the right.
If Alexis can't play, we will see Yaya Sanogo, although this is unlikely considering that a loan move for the young Frenchman seems imminent.
(4-5-1)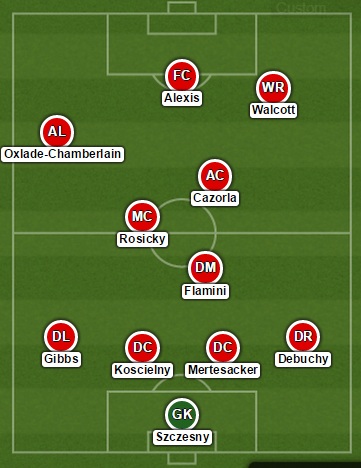 Via – Lineup Builder