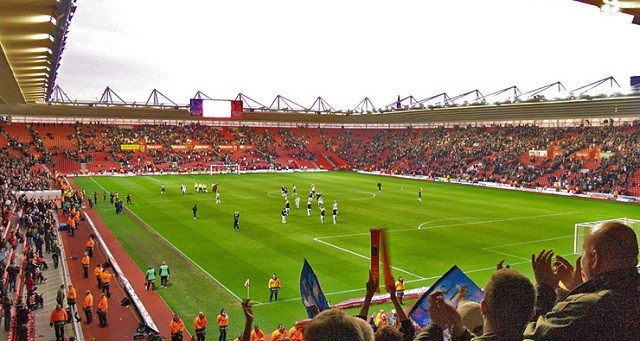 Chelsea dispatched of West Ham United with a third straight 2-0 victory in the Premier League. The match was characterized by a domineering first half performance in which Chelsea opened the scoring. With a firm grasp on the game, The Blues slowed play down in the second half and hit The Hammers on a counter attack to ensure the three points.
Chelsea travel to Southampton this Sunday (9:05 AM EST) where they look to continue their run of form. That could prove a more difficult task as it is the team's third game in six days. However, Manager Jose Mourinho believes his team is more than deep enough to deal with the congested December fixture list.
"The team is stable," Said Mourinho. "When I play players from the bench, they give me what we need at the time."
Chelsea's biggest strength is their calmness on the ball. In the tightest of areas, defenders and midfielders alike are capable of intricate passing that creates space to start a composed attack. The movement of forward players and outside backs is integral in creating such space for the midfielders to operate.
Mourinho's summer signings have taken little time to acclimate to the Premier League and are propelling his team towards their first title since 2010. Diego Costa is one behind Manchester City's Sergio Aguero in goals scored, while Cesc Fabregas leads the league in assists.
August signings, Didier Drogba and Loic Remy further add to a Chelsea attack that has been impotent over the last few seasons. Mourinho will have plenty of top quality options going into the game against Southampton.
Goalkeeper
Thibault Courtois has kept three consecutive clean sheets in the league, though he did not need to make a single save in the 2-0 win against West Ham.
Defense
Chelsea have the best defensive record in the league, due in part to the cohesion of the back four. Cesar Azpilicueta, Gary Cahill, John Terry and Branislav Ivanovic have started 15 of the 18 games this season.
The backline is also integral in Chelsea's attacking play. Azpilicueta and Ivanovic spent most of the game in the attacking half against West Ham, providing width and opening up space for forwards to run in to. Furthermore, after more than a year without a goal Terry now has two in two games.
Look for the defenders to get forward and cause problems for the young outside backs of Southampton.
Midfield
Nemanja Matic once again controlled the play as Chelsea eased passed The Hammers. The Serbian has been the unsung hero of Chelsea's campaign through the first half of the season.
Matic is completing over 66 passes per game (7th most in the EPL) at an 88 percent completion rate. He further adds a number of key interceptions in the middle, which are crucial to Chelsea's counter-attack.
Alongside Matic is the aforementioned Fabregas. His passing stats are even more impressive, as he leads the leage in key passes per game and is second is passes completed. His ability to spray balls forward with accuracy allows the likes of Eden Hazard and Willian the space to run at defenders.
Hazard again looked dangerous as he ran at West Ham's back four. The Belgian made a number of key dribbles through a forest of Hammers, one of which led to an assist on the second goal. His performance quashed any doubts over his fitness after he suffered a late injury last Monday.
Willian's work rate in midfield has propelled him into the starting eleven despite impressive performances from Andre Schurrle in the Champions League and Capital One Cup.
Over this period last season Mourinho made 4 changes to his lineup from Boxing Day to the weekend. Schurrle is a direct replacement for Willian, should Mourinho opt for a change. John Obi Mikel and Ramires are also options. With a game at Tottenham just days after Southampton, Mourinho will be weary of tired legs.
Striker
Costa added to his goal total against West Ham, but it was his runs throughout the game that make him invaluable to Chelsea. A true number nine, the striker is constantly making himself available for the ball to be played to his feet.
His runs behind defenders also make him a target for over the top. Defenders are constantly guessing where his next run will be and this creates space for the midfield players as well. Look for him to start against Southampton.
(4-5-1)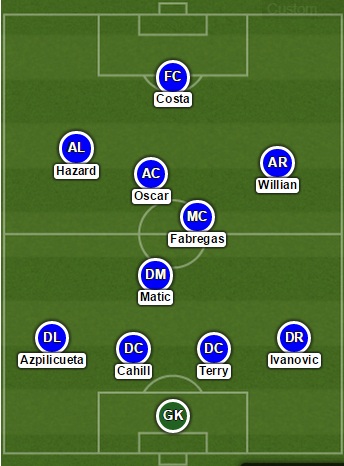 Via – Lineup Builder