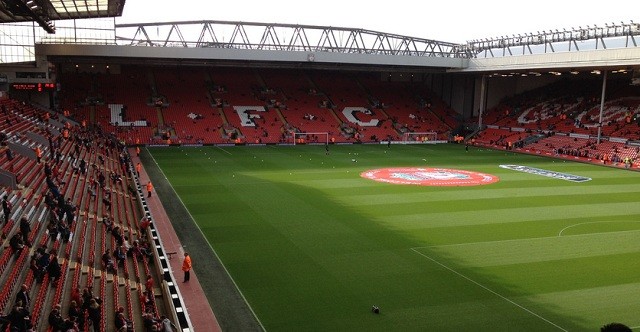 It was a hard working Boxing Day win for Brendan Rodgers and Liverpool against Burnley, but it was the type of win that really boosts any team's confidence. They next face a Swansea squad that is just ahead of them in the Premier League standings.
Goalkeeper
Simon Mignolet surprisingly came on for Brad Jones midway through the first half and it looks like he is going to take over the spot again. While he didn't look too confident, he will have to improve against Swansea with their extremely capable forward in Wilfried Bony.
Center Backs
Kolo Toure was surprisingly subbed off for Emre Can during the second half against Burnley but there haven't been any reports of an injury so he could make his return to the lineup in the next match.
While Can was solid, he may not be able to hold his own against the better attackers of Swansea. Martin Skrtel and Mamadou Sakho both performed really well in the last match and there is nobody else in the squad who can be able to replace them.
Right Wing Back
Jordan Henderson was the main outlet on the wings for Liverpool but he may not be able to do that against Swansea since he will have to help the defense keep track of Jesus Montero. He will hardly ever have a bad game due to his fantastic energy and leadership and he should continue that against Swansea.
Center Midfield
Steven Gerrard showed why he is still a player who should be feared of all opponents with his trademark long balls that split the defense. In addition, Lucas Leiva did his usual job of providing defensive cover and giving hard tackles.
Against Swansea, both will have to keep track of Swansea assist leader Gylfi Sigurdsson as well as left winger Montero.
Left Wing Back
Against Burnley, Lazar Markovic was once again solid but unspectacular. He did not have much space to run at the Burnley defenders. Against Swansea, Rodger might consider using Alberto Moreno instead since he is quicker and more able to run around the field.
Forwards
The forward line of Philippe Coutinho, Raheem Sterling and Adam Lallana looks like it will be Rodgers first choice at least until Daniel Sturridge returns from injury.
Even though they had a hard time breaking through the Burnley defense, Sterling showed his finishing ability with a great goal that ended up being the only goal of the match.
(3-4-3)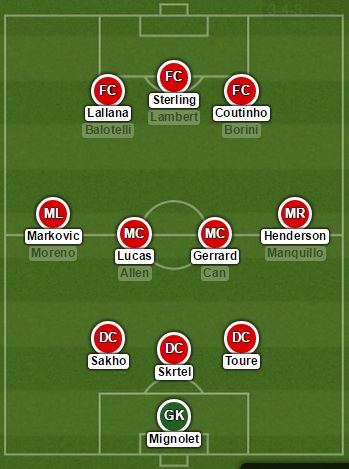 Via – Lineup Builder