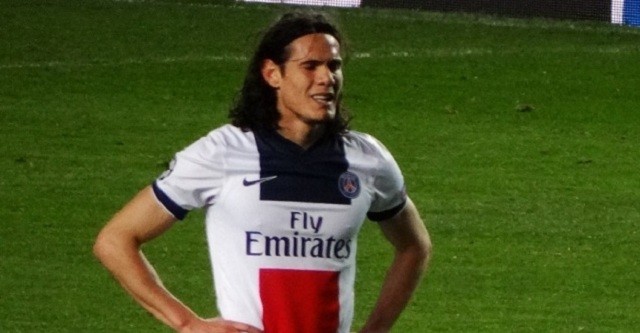 Much has been made about the defensive cover Arsenal are looking to bring in this January, but it appears that they may be also planning an overhaul of their offense as well.
Reports from Paris are suggesting PSG manager Laurent Blanc has already agreed to let Uruguayan striker Edinson Cavani join the Gunners in London ahead of a very tough second half of the Premier League season.
There is already a log jam of players in the Arsenal forward department, yet it seems Arsene Wenger may be putting all his chips in the middle of the table knowing that a disappointing end to the season could cost him his job, something many fans have been hoping for with the team playing so inconsistently in recent times.
With Lukas Podolski seemingly heading to Milan on loan the rest of the season, it appears Wenger could play Cavani up top with Olivier Giroud, or have him play the focal point of the offense with summer signings Alexis Sanchez and Danny Welbeck on the wings.
While on the surface it wouldn't make much sense for Arsenal to target offensive support, Wenger may feel his hand has already been played with his side suffering so many injuries this season and his team dropping points because of their lack of depth. Giroud has also just picked up a three match ban for an incident in Arsenal's game against QPR. That will no doubt give Wenger enough ammo to bench the Frenchman in favor of a splashy transfer window signing.
Cavani hasn't quit lived up to the lofty expectations placed upon him when he arrived in Paris, yet that was never going to happen with teammate Zlatan Ibrahimovic leading the way up top. With that said, his goal scoring percentage is over 50% a game and could help boost any team.
If Arsenal and manager Arsene Wenger are able to make the move for the Uruguayan, they will have one of the strongest attacks in Europe. Alexis Sanchez has easily cemented himself amongst the best players in the Premier League and seems to be on pace to rival some of the true elite talent in world soccer.
Olivier Giroud and Santi Cazorla have been scoring goals of late and the team is still waiting for injured stars Mesut Ozil, Theo Walcott and Aaron Ramsey to rejoin the lineup.
Cavani would be the icing on the cake for this team and could push them over the top in securing a top four position in the Premier League.