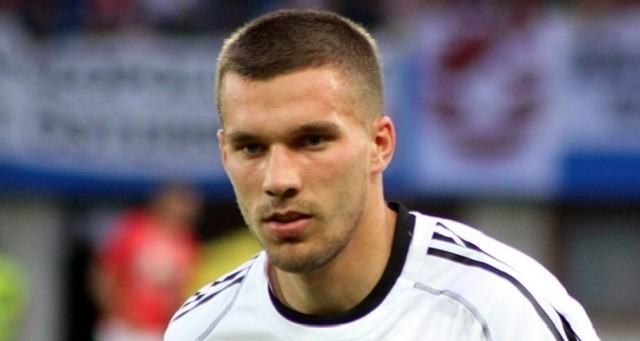 Lukas Podolski may be on the way out of London in the coming week as more and more high profile teams are beginning to show interest.
Borussia Dortmund have already been thought to be in the running for the German international and they have been joined in that race by Italian giants Inter Milan. Podolski has been featured in thirteen appearances overall for the Gunners this season but many, including the player, feel he should be getting more minutes considering his goal scoring output when he is given time on the pitch.
While Inter have struggled this season and are 11th in Serie A, they are only five points from sixth place Genoa and could use depth throughout their lineup to help insure a high finish in the standings. Making a splash in the January transfer window could jump start the team and push them up the standings ahead of their lesser known, but more efficient competition.
Podolski is effective on the wing and is rather versatile compared to most players when it comes to his preferred position up top. He battles when he is on the field and quickly endears himself to his teammates, something a team like Inter could use at the moment considering their current predicament.
While most Arsenal fans would love to see more of the 29-year-old, there simply hasn't been room after the summer signings of Alexis Sanchez and Danny Welbeck. Both, particularly Sanchez, have played well and have given boss Arsene Wenger little reason to take them out of the lineup. Podolski has been patient and not caused a stir with teammates or his manager even though he has been slightly unsettled in recent times.
Arsenal have already discussed sending Yaya Sanogo out on loan to get him first team minutes this January, and with the possible departure of Podolski, we can begin to see the opportunity for other rumors to come to fruition, such as the addition of Xherdan Shaqiri. Most people question such rumors, but when they are looked at as a whole they begin to make sense.
While it is rare for a team to make more than one or two big additions or subtractions in the middle of the season, Arsenal are in a unique spot at the moment and Arsene Wenger may be forced to open his legendary tight wallet, fully aware that finishing outside the top four of the Premier League could cost him his job.
This upcoming transfer window is shaping up to be one of the more memorable in recent times with so many massive clubs down in the standings throughout Europe. They will all be grasping for talent which could force some into bidding wars, pushing the price of elite talent up to heights we have rarely seen in world soccer.