With his last minute goal against Arsenal, Marin Skrtel saved Brendan Rodgers and Liverpool from another week of bashing from the media. That goal led to a 2-2 draw for the team and kept the team from falling to the bottom-half of the table. They now face a Burnley team that is trying to get out of the relegation zone.
Goalkeeper
While Brad Jones has not particularly played well during his run as the starting keeper for Liverpool, it looks like Rodgers will continue to keep him in the lineup for the time being.
Center Backs
The three defenders, Kolo Toure, Skrtel and Mamadou Sakho should be able to keep Burnley's most dangerous forward, Danny Ings, in check, they will have to keep track of Ashley Barnes as well, who has 3 goals this season.
With Dejan Lovren still injured, Sakho should retain his spot in the lineup and that will allow him to find his form again.
Right Wing Back
Jordan Henderson's pure effort and great intelligence has allowed him to adjust quickly to a position out wide. He is still tied for the team lead in assists with 4 and he could have an opportunity to add to that total this weekend against Burnley.
Center Midfield
The pair of Steven Gerrard and Lucas Leiva provide both offense and defense and they should be able to hold their own against an average Burnley midfield. Gerrard is still a fantastic passer who can cut up an opponent to create multiple opportunities.
On the other hand, Lucas has been the midfield enforcer beside the captain. As great as his defense has been, Lucas will have to keep his aggression in check, since he does tend to go into challenges that could result in him getting a yellow card.
Left Wing Back
As an energetic wing player, it looks like Lazar Markovic has finally found his place in the Liverpool squad. He has rebounded nicely from the inexplicable red card against Basel in the Champions League to be a great outlet out wide for the forwards. He has also been able to not be a defensive liability through his sheer effort in running around the field.
Forwards
It looks like Rodgers has finally found a strong forward line which is made up of Philippe Coutinho, Raheem Sterling and Adam Lallana.
All three have great movement that confuses the opponent's defense and that opens up chances for them to exploit. While they don't have a lot of height, their pace and intelligence more than make up for that.
(4-3-3)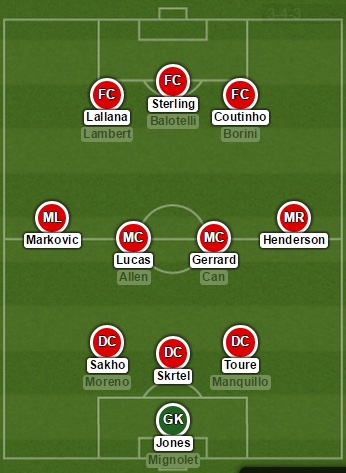 Via – Lineup Builder