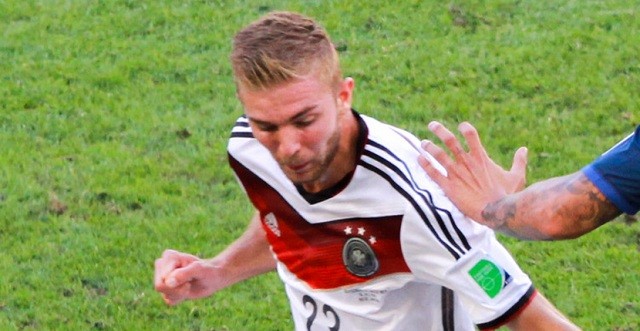 According to the Daily Star, Arsene Wenger is preparing a £20 million bid for Christoph Kramer. The German is also a target for Liverpool and Manchester United, according to the report.
The German defensive midfielder is most famous for asking the referee if he was playing in the World Cup Final during the World Cup Final this past summer. This was due to a severe concussion he suffered during the opening minutes of the match, which makes the situation less humorous. He is currently on a season long loan with Borussia Mönchengladbach.
According to the report, Kramer is valued at 20 million, which is what Arsenal are wiling to offer, but Bayer Leverkusen, Kramer's parent club, is seeking £25 million for the German International.
Arsenal certainly needs a defensive midfielder, and Kramer's addition would be a welcome one, even if center back is a top priority. His youth and international experience is what makes this possible deal most attractive. Kramer is 23-years old, has eight caps for Germany but has already won a World Cup.
Kramer's towering presence, he stands at 6'3, would add physicality in the middle of the field for Arsenal, something that only Mathieu Flamini really offers, and would be another dangerous target in set pieces. His youth, as mentioned above, would also be welcome considering Arsenal's two choices at defensive mid, Mikel Arteta and Flamini, have both hit 30-years-old, and their best days are behind them.
I think that considering the price, Kramer's position, his physical attributes, and his age, this is a very feasible transfer and one that would help Arsenal immediately. If nothing he would add another body in a midfield that currently has 3 healthy central midfielders.
This transfer has a 65% chance of happening.