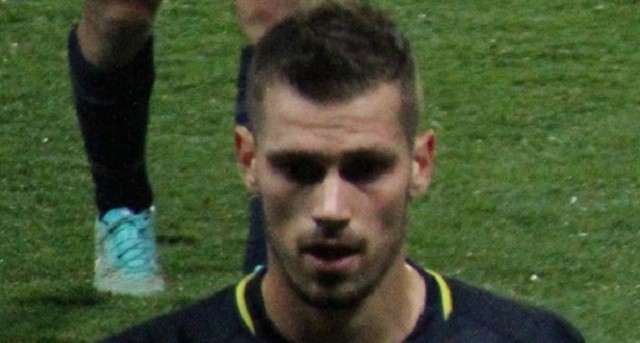 After a collapse at Amfield on Sunday, it is quite clear what Arsenal are in need of. To have a talented holding midfield in the starting 11 would mean the world to Arsene Wenger and the Gunners, and could be just the catalyst to take the team over the hump. Southampton Frenchman Morgan Schneiderlin was very close to an Arsenal move over the summer, and his time may just have arrived.
While leading 2-1 to Liverpool with 10 minutes left, Arsene Wenger was so desperate for help in the back that he had seven defensive minded players all on the pitch, none of which could stop the Liverpool surge. To be able to replace all his problems with one player would be a huge relief for the scrutinized manager, and Schneiderlin would do just that.
Southampton boss Robert Koeman is adamant that he will retain the 25 year old midfielder at least until the summer, as he was last transfer window. Schneiderlin has been vocal about his admiration to play for a big club with Champions League football, and after a recent Saints slide in the table, might not get there while at Southampton.
Arsenal would be perfect for the midfielder, as he would start immediately and instantly become a huge factor in Arsenal's system. Not to mention that Arsenal has played Champions League football for 17 years straight.
Just like recent arrival and ex-fellow teammate Calum Chambers, Schneiderlin wants to leave Southampton for greener pastures. The two youngsters helped build the Southampton that you see today, and both deserve their due. Chambers has received his, but when will Schneiderlin's come?
Rumors are that Arsene Wenger is lining up a huge bid for his fellow countryman, one big enough to pry him away from the Saints. Schneiderlin's technical ability, physicality, and awareness for the game makes him one of the most sought after holding midfielders in England right now, and would be just the signing Arsenal needs to revamp their struggling defense.