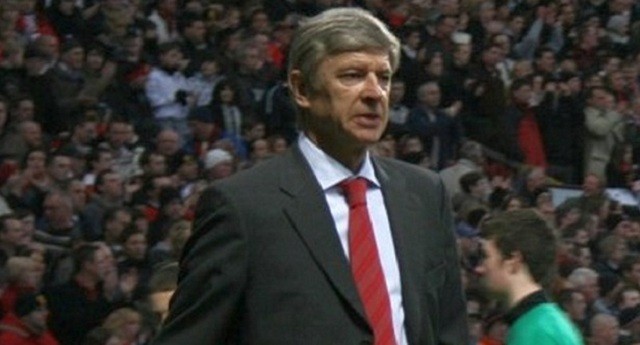 Arsenal face Liverpool at Anfield Sunday, in what will be a test for the Gunner's to show that they can produce the consistent performances that they claim they are capable of.
Arsenal thrashed Newcastle United at home last weekend, an impressive result considering Newcastle brought Chelsea's unbeaten run to end the previous weekend, while also being on an impressive run themselves. A match at Anfield is always a different kind of monster though, and will certainly be more of a test for the Gunners in spite of Liverpool's poor form this season.
Arsenal has some good news regarding returning players. Nacho Monreal could be back from ankle ligament damage, a test will be conducted on Saturday to deem his fitness. Similarly Theo Walcott could be in line to make an appearance after going through his first full training session since injuring himself with England a month ago. Arsene Wenger said that he would consider bringing Monreal and Walcott even though neither has been in training a full week.
Unfortunately though, it seems that Alex Oxlade-Chamberlain will miss out, even though Wenger still harbors hopes that the Ox can prove his fitness. A decision will be made on the young Englishman Saturday; Gooners will be hoping he can play though considering his fine form in central midfield in the absence of Aaron Ramsey.
In other news, both Tomas Rosicky and David Ospina are returning to full training this upcoming week, while Ospina might feature on the bench according to Wenger.
Arsenal will still be without the services of Laurent Koscielny who is recovering from a calf injury after over compensating on that part of his leg due to his injured Achilles'.
Mesut Özil is close to coming back from injury, a couple more weeks seems likely, but Wilshere, Ramsey, and Arteta are still long term injuries.
Here is Arsenal's probable lineup versus Liverpool:
Goalkeeper – Szczesny
Wojciech was not at fault for Newcastles lone goal over the weekend, Arsenal simply failed to put a man up front, ruining Szczesny's clean sheet, something he could not have been pleased about.
Right Back – Debuchy
Mathieu Debuchy was very impressive at center back last weekend; I thought it was his best performance in an Arsenal shirt to date. But with Calum Chambers returning from suspension, Debuchy will return to his natural right back position and Chambers will start at center back.
Center Backs – Chambers & Mertesacker
No player in the Premier League, has played more minutes than Per Mertesacker this season. The worry is that this will start to catch up to him, there have been some signs that it has already over the course of the year, not last weekend though as Mertesacker was a stalwart alongside Debuchy in the center of defense. Hopefully this form will continue next to Chambers, who, overall, has played well at center back.
Left Back – Gibbs
This weekend is too short for Monreal to make a return, but Gibbs is the first choice anyways and had a full week to recover from niggling injuries that have bothered him for the past couple weeks.
Defensive Mid – Flamini
No one else can play here at the moment, besides Francis Coquelin, but he isn't really an option unless there is an emergency.
Mathieu Flamini has been on a good run of form since the international break and there is no reason to believe that this won't continue.
Central Mid – Cazorla
It doesn't seem that Oxlade-Chamberlain will be fit enough to play this weekend, although Wenger hopes he will. In his place, Santi Cazorla will drop back a little bit. If the Ox is fit, he will play here and Cazorla will push forward a little.
Trequartista – Alexis
Alexis Sanchez will move from the wing, to the center, which will essentially continue to be a free role for him. This will push Arsenal's formation into something close to a 4-4-2.
If Chamberlain is healthy though, Alexis moves out wide and Cazorla pushes up here and plays a more creative role.
Wide Right – Welbeck
Again this is all very dependent on Chamberlain's health, if healthy, Alexis plays here, otherwise Danny Welbeck starts here.
Walcott would start, but it seems unlikely he would make a first start after only going through a couple training sessions and having made two prior substitute appearances all season.
Wide Left – Podolski
With Welbeck on the right, Lukas Podolski comes into the squad and makes a rare, but deserved, league start.
Striker – Giroud
Olivier Giroud scored two well-taken goals last weekend, responding well to his horrid performance against Stoke City the previous weekend. It remains to be seen if Giroud can replicate this form against a traditionally topside, something that he has generally struggled with over the course of his time with Arsenal.
Make no mistake though, he is an integral piece to the Arsenal jigsaw, and is the only traditional powerful forward that Arsenal has in the squad (Sanogo is a close second but not quite yet).
(4-5-1)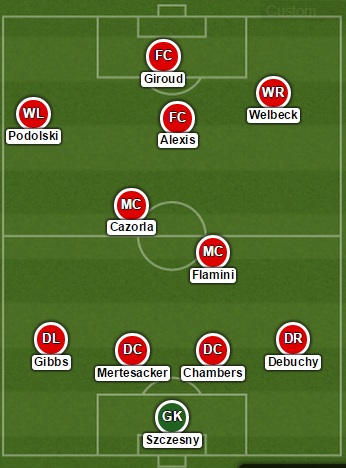 Via – Lineup Builder