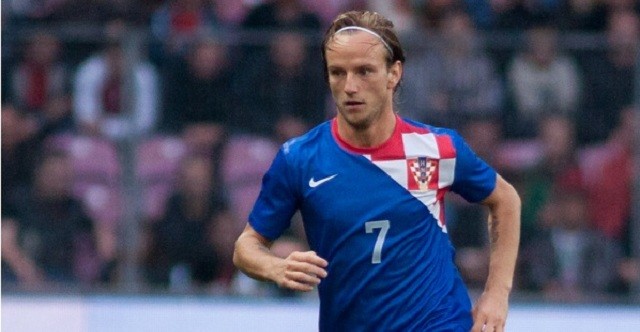 Regardless of Manchester United's recent winning streak, it seems quite obvious that Louis Van Gaal wants and needs more creativity and a different pace in the team's midfield line.
Over the last three matches, the Dutch manager tested three different setups for the team's intermediate sector and, judging by those constant changes, he didn't seem to be happy with any of them. Van Gaal wants more from his midfield line, not only more creativity but more flexibility and intensity as well.
The experienced Dutch head coach returned to his conventional 3-5-2 approach and such style requires a lot of effort from the midfielders, since they are forced to run miles and miles in order to compensate both the defensive and the attacking line; to that extent, United need not only a player with impressive passing and vision skills but also someone with splendid positioning, able to command the team from the moment they start to build up their game from behind and Barcelona's midfielder Ivan Rakitic might be the right man for that job.
According to recent reports from the English media, Manchester United are willing to offer the Catalan team somewhere around £20 million in order to bring the Croatian playmaker to Old Trafford in January.
Rakitic, who played a key role for Sevilla during the last three and half seasons, joined Barça this summer for around £14 million and he didn't wait long before he started to impress. His excellent performances during the pre-season matches and the consistent stints during La Liga's first matches transformed Rakitic into a vital element to Luis Enrique's structure.
Nevertheless, recently, especially during and after Barcelona's less impressive domestic period, Rakitic has been relegated to the bench, losing his place in the starting lineup to the experienced Spanish midfielder Xavi and he is now struggling to find his way back unto the team.
The Croatian star performances' level has decreased considerably, as well as his motivation levels. Rakitic appeared to be somewhat stunned by numbness in his recent appearances and such fact has, in a way, fueled the media speculation about his future at the Catalan team.
At the age of 26, Rakitic is beyond any doubt one of the most competent deep lying playmakers playing in European football at the present moment and he would certainly bring some extra value to United's team.
The increasingly more unlikely possibility of Van Gaal's fellow countryman, Kevin Strootman, joining the Red Devils during the January transfer window (due to AS Roma's ludicrous demands) could open the door to a footballer that, the way I see things, would offer United plenty more than the Dutch midfielder.