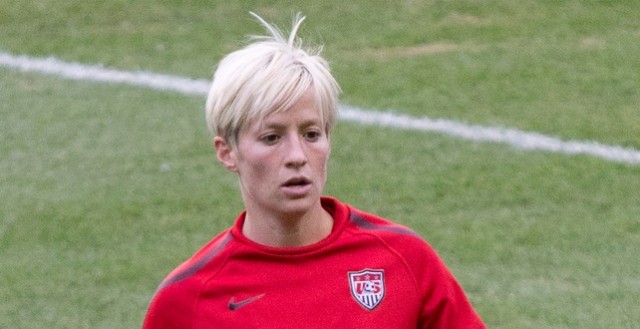 2014 has been a tough year for the U.S. Women's National Team. It started with its worst performance ever at the Algarve Cup in March, which resulted in a 7th place finish. Coach Tom Sermanni was sacked in April, after two losses and just 15 months in charge of the team.
Current head coach Jill Ellis was unbeaten through CONCACAF World Cup Qualifying, but has failed to rebuild the U.S. women into a side that truly deserves the #1 FIFA ranking. On Sunday (December 14th) she suffered her first loss at the hands of Brazil, as legendary striker Marta scored a hat trick for a final score of USA 2 – 3 Brazil.
Halfway through a four-team tournament, things have not gone according to plan. The Americans sit third in a table of four after drawing with China PR and falling to Brazil. For the USWNT to play in the championship match, the U.S. must defeat Argentina and hope that Brazil defeats China PR. From the results of those matches, the Americans must also make up the seven-goal difference China PR has accumulated.
For the USWNT, the thrilling Olympic gold medal run of 2012 has faded. The team that topped the podium two and a half years ago has yet to return to its expected level of dominance. Since the London Olympics, the Americans have devolved into a disjointed, vulnerable side.
The U.S. still has an impressively deep player pool. There are so many quality forwards, one was converted into a fullback (Kelley O'Hara). The midfield has an ample range of talent. The defense is well anchored, and there is arguably no better goalkeeper in the world, now or ever, than Hope Solo. In every position, quality players are left on the bench because there is simply too much talent for just eleven starting spots. It's a level of luxury that most national teams dream of.
It's not an issue of player talent. It's not fatigue, as most players on the roster finished their club season months ago in the National Women's Soccer League. It's not a lack of chemistry; these players have long, successful histories together.
It's not a player issue. It's a management issue.
Jill Ellis is not to blame for what she inherited. She is also only seven months into her first head coaching position at the international level. It is understandable that she would want to continue the work of her predecessors. But she was involved with the national team while both Pia Sundhage and Tom Sermanni were in charge. She knows that her predecessor's experiment failed. She knows the players and what they're capable of.  Her lack of success despite her experience suggests she does not have the vision or leadership skills to serve as head coach.
The biggest change (and failure) that Sermanni implemented was a 4-3-3 formation. This could be a decent fit for a team with such a large number of strong attacking players. But the formation was disruptive at every level under Sermanni, and it continues to hinder the team under Ellis. The dysfunction stems from an uncertainty as to which players are best fit for the wing and midfield roles. Yet as Ellis continues use the formation, her starting line-ups become increasingly puzzling. At best, she is taking guesses. At worst, she is squeezing Sundhage's players into Sermanni's formation.
The biggest issue against Brazil was Abby Wambach. Despite the center forward position being passed to Sydney Leroux (Alex Morgan is dealing with a minor injury), Ellis seems hell-bent on playing the veteran. Wambach was given the central midfield position, and it became clear that she doesn't have the speed to keep up with the game. On top of that, she was ineffective as a creator, and was reluctant to follow the ball or play it as a midfielder. Ellis' decision to include her in the starting XI at all, let alone in the midfield, is concerning.
Putting Wambach in the midfield offset the entire offense. Lauren Holiday has proven her understanding of the position, and displayed her ability as an anchor and creator. Holiday earned a start, but was pushed over to the right side flank in favor of Wambach.
That forced Tobin Heath, the most technically skilled player, up to the wing where her fancy, cheeky style of play went largely wasted. She had to wait for the ball to come to her, which effectively neutralized her impact on the game. Heather O'Reilly, arguably the team's best suited player for a wing position, sat on the bench.
The only player earning her spot was Megan Rapinoe. She had an incredible work rate, playing the full length of the right side of the field. She constantly produced offensively, contributing a beautiful goal from outside the box, and also made a big impact on defense.
Her ability to play long balls and curl the ball into the net allow her to thrive as a winger. When Ellis subbed Rapinoe off in the 65th minute, it sucked the life out of the United States. Marta scored the game-winning goal less than a minute later.
Jill Ellis has two games left in 2014. If Ellis has any hope of returning the team to winning form and keeping her job, she desperately needs to sort out her top six players. If this level of dysfunction continues into 2015, the USWNT may have a tough time just trying to get out of their Group of Death in Canada.