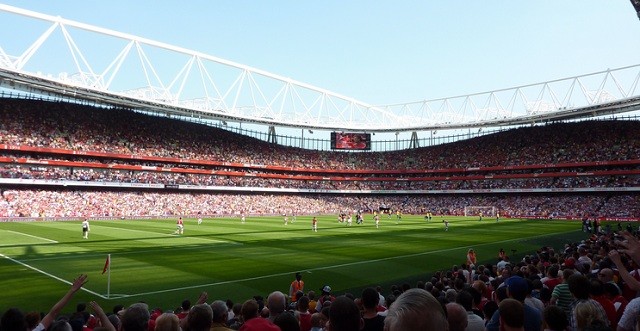 With Southampton once again figuratively slamming the door shut on the transfer of Morgan Schneiderlin, Arsene Wenger and Arsenal are left scrambling for a holding midfielder.
Brazilian youngster Lucas Silva is an Arsenal target with a bright future, and would make a whole lot of sense to bring to North London. This sounds like a broken record to Gooners everywhere though, who have been waiting for a replacement for Alex Song for a few seasons now.
Silva, 21, is making quite a name for himself in the Brasileiro Seria A with Cruzeiro. He has recently won back-to-back league titles with Cruzeiro, and has been named in the best team of the season in the Brazilian top division.
Silva is a versatile holding midfielder who possesses great physical and technical ability. He is a reliable form of protection for the back line as his presence and defensive traits see him as a formidable holding midfield in just about any system. His incisive decision-making and stellar passing ability will have Arsene Wenger's mouth watering.
Much the reason for Mikel Arteta commanding the current holding position at Arsenal is because of his excellent passing ability. Silva, still very young, already is very promising as a visionary in the midfield, and can continue to grow.
His defensive work though, is where he really stands out from Arteta. While Arteta is a liability much of the time, Silva is just the opposite, as he would take a lot of pressure off the back four.
He has drawn heavy attention from Real Madrid as well, which will surely give Arsenal some issues. Arsenal though, have reportedly matched Cruzeiro's demands, and could close the deal soon. There will surely be more back and forth between the clubs for the Brazilian, and there is still a few weeks until the window, so what happens between here and now is anybody's guess.
Silva has openly said that to play at the Bernabeu would be a dream, but Arsenal and London is no shabby destination. If Arsene Wenger can steal the youngster away from the Spanish giants it would be a huge step in Arsenal returning to glory.
Silva is a rising star, who at the age of 21 has already drawn comparisons to the great Kaka. A player of that praise who plays a position of need would be just the signing Wenger needs to revitalize his career and team.