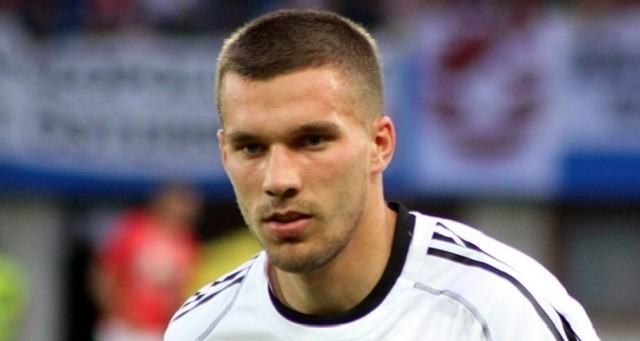 Both proven German international Lukas Podolski and Costa Rican World Cup star Joel Campbell have found chances on the pitch hard to come by recently.  However, both Campbell and Podolski were given starts in Istanbul against Galatasaray.
Both players have been consistently linked with an exit from the Emirates this January, and it seems Wenger has given both of the players a chance to showcase their talents in a game that was not a must win, although Arsenal handedly won 4-1.
Campbell has only made six appearances for Arsenal in 2014, and only grabbing one start, which was the game against Galatasaray.  He has played a total 145 minutes, which, for a player who shone at the World Cup, is not enough to excel his career.
The Costa Rican has pace to burn, and, as proven in the World Cup, can score and create goals.  Hopefully Wenger will start to play him more, as his versatility allows him to play any of Arsenal's three attacking positions.
Campbell has been sent on consecutive loan spells across Europe, and he is hoping to make a mark on the Arsenal team, and hopefully find his morn and break into the starting XI more frequently.  With players like Theo Walcott ready to return, as well as Olivier Giroud, Alexis Sanchez, Alex Oxlade-Chamberlain, and Danny Welbeck at Wenger's disposal it will be no easy task, but hopefully he gets his chance.
Lukas Podolski has not had one Premier League start this season, and only one in the Champions League.  He has played a mere 211 minutes all competitions this season, and his netted three goals, all in the Champions League.
He scored an extra time goal away against Anderlecht to secure a point, and bagged a brace against Galatasaray last Tuesday. The prolific goal scorer has not been given a fair chance at Arsenal this season, and seems to have fallen out of favor with Wenger.
Poldi is a fan favorite, and has certainly provided Arsenal with crucial goals in the past few seasons. Like Campbell, I would be surprised to see him not start more often, or enter games as a sub earlier.  Podolski could potentially be a deadly force on the left or center, and with the new free flowing 4-3-3 formation, he could be pivotal in Arsenal's top four contention.
Even though both players have been linked with January exits, I do not believe that either player will leave, at least on a permanent basis.  It is said the Campbell may be loaned out for the remainder of the season, possibly to Southampton to gain much needed Premier League experience.
Arsenal have been linked with the likes of Edinson Cavani and Mattia Destro in the coming transfer window, but hopefully Wenger will focus on a defensive midfielder or centre back with the attacking firepower he has barely used on the bench.
If Wenger does make the decision to buy another attacking player instead of a much needed defender, one of the two players may be deemed surplus to the requirements at Arsenal and have to leave the club.  I do not however foresee this, and expect both players to gain more opportunities, confidence, and goals.