Arsenal face Newcastle at the Emirates Stadium on Saturday, in what has been an up and down domestic campaign for the gunners. A win this weekend is important, as a successful run of games during the Christmas period is always good for confidence.
Arsenal went a ways in getting said confidence back on Tuesday night against Galatasaray in the Champions League. They thoroughly outplayed their opponents, and were able to showcase three youngsters who performed admirably.
Aaron Ramsey and Lukas Podolski both put in excellent displays and scored two top-notch goals each. Ramsey's cracking left footed effort for the third goal, was particularly stunning, one he described as probably his best of his career.
As of writing this, it's unclear who will be available this week. Although Mathieu Flamini and Ramsey were both taken off at half time; both were taken off for precautionary reasons and will be available.
There is no word on Theo Walcott or Tomas Rosicky's availability, though Rosicky was in training this week.
It is also unclear of Arsene Wenger will continue to rest Alexis Sanchez and Laurent Koscielny a further week. It seems more likely Koscielny will play than Alexis, who could use a full two-week break, especially considering he is used to having a winter break.
Newcastle has been on a good run of form lately, after they opened up the season in terrible form. They ended Chelsea's unbeaten streak last weekend and certainly will be more of a test than Galatasaray was.
Here is Arsenal's probable starting lineup:
Goalkeeper – Szczesny
Wojciech Szczesny was in back in goal for the first time since injuring his hip against Manchester United.
He looked solid over the week, but couldn't have done anything to stop Wesley Sneijder's exquisite free kick.
Right Back – Debuchy
Mathieu Debuchy made his return to the firs team Tuesday and looked solid. As expected he didn't complete the full match but he will have four days rest and should recover in time to start.
Calum Chambers has played a lot of matches since the start of the season and could use a rest.
Center Back – Mertesacker & Koscielny
Youngster, Stefan O'Connor, praised Per Mertesacker's leadership and guidance over the week and these qualities reflected his performance.
The German always looks better on the field with Koscielny next to him, and the Frenchman should be back after a weeks rest and with another weeks rest on the horizon after this match.
Left Back – Gibbs
Kieran Gibbs wasn't able to start on Tuesday, possibly out of precaution considering he had been suffering from injuries recently. If he was a game time decision, the Englishman should be back for the weekend.
If he is unavailable, Hector Bellerin could start here, as he did during the week, considering Arsenal's backup left back, Nacho Monreal, is out for the next couple weeks with ankle ligament damage.
Defensive Mid – Flamini
Flamini will continue to start here. He will recover just fine after only completing half the match Tuesday, and will have another week off. This is important as Arsenal has very little cover in this position and Flamini has played a lot this season.
Center Mid – Ramsey
Like Flamini, Ramsey only played have the match Tuesday and will have recovered for this match. His form is certainly picking up the past couple weeks. He is starting to score and is making better decisions going forward.
His second goal will be one we will always see on a Ramsey highlight reel.
Attacking Mid – Cazorla
Santi Cazorla will return from a much deserved and needed rest. His form has been excellent this past month. Look for this to continue at home over the weekend.
Wide Right – Oxlade-Chamberlain
The Ox looked strong in the center of the pitch during the week, and showed good leadership during the second half while partnered with two 17-year olds.
He set up Ramsey's first goal, and made dangerous direct runs through the center of the field for much of the game.
He has been one of Arsenal's most dangerous looking players this season and there is no sign that he will let up.
Wide Left – Podolski
Podolski was in formidable form during the week, scoring twice. He also tracked back and defended better than he has in a long time. This will go a long ways for Podolski getting some consistent playing time.
He deserves this start, and Alexis could use an additional game off.
Striker – Welbeck
Danny Welbeck received a full week off, one he needed considering he had been battling a small knee injury.
Olivier Giroud looked terrible against Stoke last weekend and Welbeck deserves the start over Giroud. It's possible Giroud starts here with Welbeck wide left, giving either Alex Oxlade-Chamberlain or Alexis, a break.
Yaya Sanogo looked good against Galatasaray, especially his hold up play, which led to an assist for Arsenal's fourth goal. It's unlikely he starts though, barring an injury to either Welbeck or Giroud.
(4-5-1)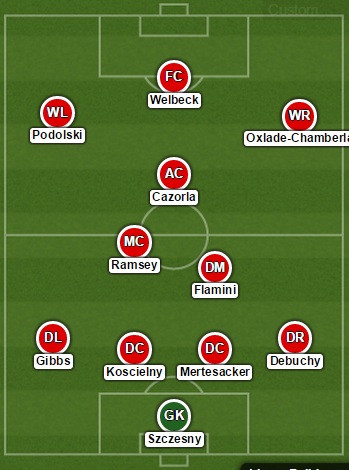 Via – Lineup Builder