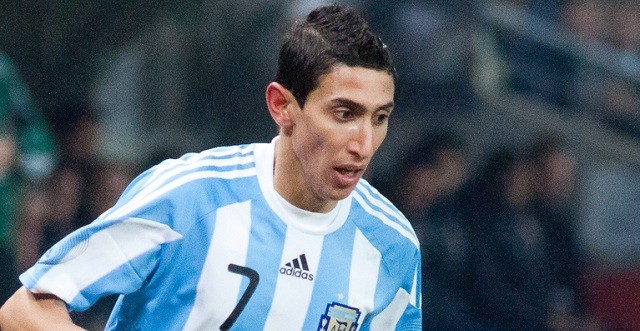 Hate would be the apt word to describe the feelings between Manchester United and Liverpool, and the eyes of the whole world will now be fixated on the clash between these two great rivals when they lock horns at Old Trafford on Sunday afternoon.
The rivalry Manchester United and Liverpool stretches way beyond the football pitch and many consider the clash between the two most successful teams in England as arguably the biggest game in English football.
Away from the history and hype surrounding the match, the clash on Sunday is significant for both sides in terms of the three points that is up for grabs.
United are looking to aid their Champions League hopes by claiming their sixth victory on the bounce while Liverpool will be looking to restore their shattered confidence with a good result following their debacle in the Champions League during midweek.
Here is the Strongest Possible Lineup for Manchester United on the day –
Goalkeeper
It almost seems like stating the obvious every week but David De Gea has been the most important player for Manchester United this season and the Spaniard continued his brilliant run of form by putting in another fine performance during the Red Devils' 2-1 victory over Southampton on Monday night.
Now up against a fired up Liverpool side who are desperate for victory, one can be sure that De Gea will once again have to play to his best in order to aid United's hopes to claiming another three points.
Defence
Manchester United manager Louis van Gaal surprisingly deployed a 5-3-2 formation against Southampton on Monday night and it was clear to see that the system did not work.
United were run ragged by the Southampton attack and identifying his aberration early on, van Gaal decided to change his system around midway through the first half by taking off the struggling Paddy McNair and replacing him with a midfielder in the form of Ander Herrera.
Having seen his side put in a woeful performance last time out, van Gaal is sure to revert back to a four man defence for the clash against Southampton and it will mean that McNair will probably be left out of the starting lineup.
Even Chris Smalling has been ruled out due to a groin injury he picked up during the clash on Monday and as a result, Jonny Evans looks the most likely candidate to partner Marcos Rojo at the heart of the United central defence.
Rafael is said to be back in training but with Antonio Valencia and Ashley Young playing well in the full back positions, the wing duo look set to retain their place in the starting lineup. Luke Shaw and Phil Jones remain doubtful with injuries.
Midfield
The Manchester United midfield was completely overrun by Southampton on Monday and the likes of Marouane Fellaini, Juan Mata and Michael Carrick were terrible throughout the match.
In all fairness though, the system that van Gaal deployed certainly was a major contributor to their poor performance on the night.
With van Gaal now set to revert back to a traditional 4-4-2, Ander Herrera could be in line for a start alongside Fellaini and Carrick.
It is not clear as to whether Angel Di Maria is fully fit enough to start against Liverpool but if the Argentine winger does recover in time for the clash, he will surely come in for the ineffectual Juan Mata.
Wayne Rooney could also be pushed back into a number ten role if van Gaal decides to change things around and either way, it looks like Mata will be dropped from the start.
Attack
In a match where United were completely appalling against Southampton, Robin van Persie was the man who made the difference for the Red Devils with two opportunistic goals on the night and now riding high on confidence, the Dutchman will be hopeful of making an impact against Liverpool as well.
Wayne Rooney on the other hand, was very poor last time out and will most certainly be looking to put in a much improved performance against the side which he does not particularly harbor any affections for.
A lot has talked about Radamel Falcao's fitness but it finally seems like the Colombian star has put his injury woes behind and will be in contention to start as well.
(4-4-2)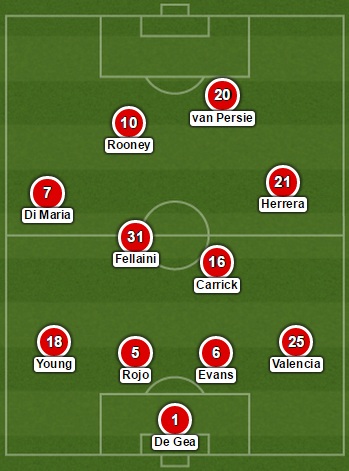 Via – Lineup Builder