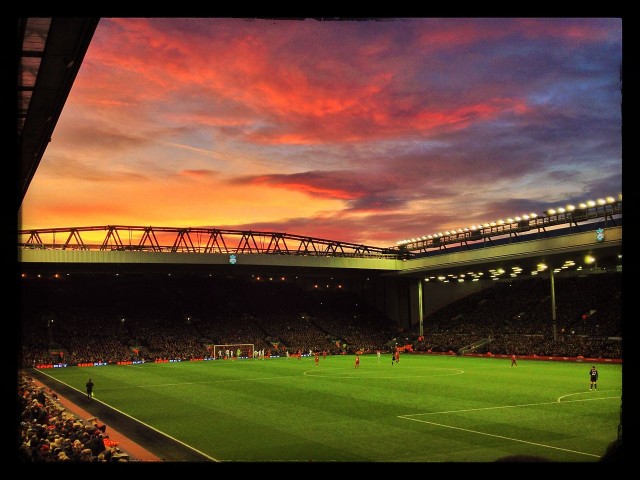 Last weekend, Liverpool was unable to continue the win streak against Sunderland. Now, the team faces a must win game against Basel in the Champions League. Last season's second place finish will look like such a waste if the team fails to progress out of the group stages.
However, Brendan Rodgers will also have to consider resting a few of his players since the team faces rivals, Manchester United, next Sunday.
Goalkeeper
Simon Mignolet will continue to start almost all games, at least until the winter transfer window, where Rodgers may decide to bring in some competition.
The Belgian 'keeper was not tested that much against Sunderland and the same could happen against Basel.
Right Back
Although Glen Johnson has been playing really well the past few games, Javier Manquillo should get an opportunity to play against Basel. The young Spaniard is still finding his feet in the squad but he still has so much potential. Also, Johnson will have to be fully rested since he will likely be facing a very capable opponent in Angel Di Maria during the weekend.
Center Backs
Having a rested Kolo Toure will be essential against Manchester United and as such, Martin Skrtel and Dejan Lovren may be the pairing of choice for Rodgers.
Skrtel will have extra incentive to play well since it was his mistake that led to the only goal of the game. Lovren will also be motivated since he has not been a part of the starting lineup as of late.
Left Back
Jose Enrique played in the last match against Basel and he performed quite well. He remains a solid defender and should be able to perform well against the Swiss team. Having him play instead of Alberto Moreno will also allow the defense to be less susceptible to a counter attack since Moreno does tend to get caught up the field.
Midfield
The pairing of Jordan Henderson and Joe Allen should be able to bother the Basel midfield and help Liverpool control the tempo of the match. Both players will also have to try and reduce the influence Serey Die has on the game since he was one of the best players for Basel in the last meeting.
An attacking midfield of Adam Lallana, Steven Gerrard and Raheem Sterling should be able to break down the Basel defense. Lallana has been playing better as of late and it is only a matter of time until he looks like the player he was last season for Southampton.
Gerrard came on as a substitute against Sunderland and immediately made an impact on the team. Sterling has looked tired as of late and will be essential in breaking down the Red Devils' defense, as a result, Rodgers may decide to play Lazar Markovic, Philippe Coutinho or Emre Can instead.
Forward
While it would be ideal to rest Rickie Lambert to save him for the match in the weekend, but this game is still a must win for the team and Rodgers should play his best striker.
Although Fabio Borini is still available, Lambert is the most fearsome forward in the roster and Mario Balotelli is still dealing with the fallout from his recent Twitter mishap.
(4-5-1)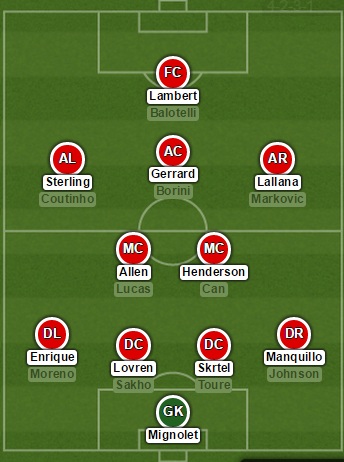 Via – Lineup Builder