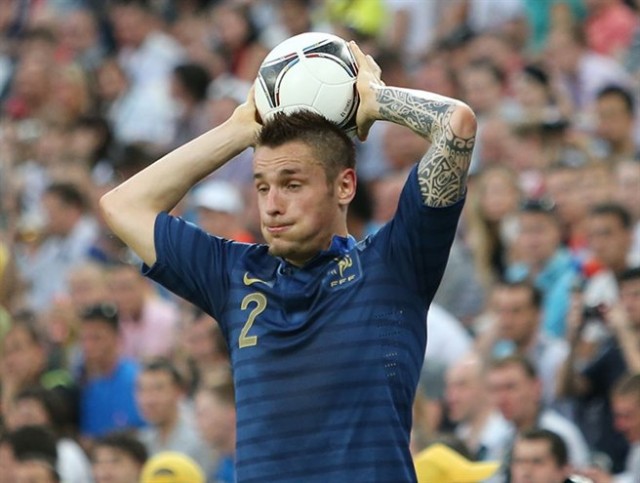 Arsenal face Galatasaray in Istanbul in what is normal a hostile environment to play in. Arsene Wenger acknowledged as much when speaking Sunday about the challenge of playing in Turkey.
In the same interview Wenger discussed the need to rotate his squad for this match, although he still will field a strong side.
Laurent Koscielny and Alexis Sanchez will definitely miss out; the Frenchman didn't play on Saturday and is still recovering from a recurring Achilles injury and Alexis is in dyer need of a rest. Wenger acknowledge what everyone else has noticed, when exclaiming that Alexis is "in the red zone."
It's not quite clear who else Wenger will rotate as injuries will play a role, namely its not quite clear who is returning from injury.
David Ospina and Mathieu Debuchy have been in training for the past week. Debuchy will likely feature over the weekend but it's possible that he could play in Turkey.
Emiliano Martinez has impressed in goal and it's not clear if Wojciech Szczesny is healthy again. It would be harsh on Martinez to start Ospina in goal, but it's possible.
If Arsenal win and Dortmund loses against Anderlecht, then Arsenal will top the group. This would mean avoiding another difficult matchup in the first round, something they have failed to do for the past couple seasons.
With Galatasaray having nothing to play for and therefore nothing to lose but their pride in front of their fans, this could be a difficult matchup for Arsenal.
Here is Arsenal's probable lineup:
Goalkeeper – Martinez
It's hard to fault Martinez for the goal's conceded over the weekend but it wasn't his best performance either.
Szczesny is most likely not healthy yet and Ospina has been out for three months and is likely not quite match fit yet.
Either way it would be harsh to pull Martinez from the starting line up.
Right Back – Debuchy
It's a little earlier than expected but Wenger indicated last week that Debuchy could possible feature in this fixture because he has been in training for a little over a week now.
I wouldn't be surprised to see him complete 60 minutes and then see Hector Bellerin, who was thoroughly unimpressive against Stoke City, finish the match.
Center Backs – Chambers & Mertesacker
Per Mertesacker was clearly affected by the absence of Koscielny over the weekend. It's incredible, and slightly, concerning the contrast in performance by the back four when Koscielny is out of the lineup.
Calum Chambers was also unimpressive over the weekend and was guilty for the first goal conceded. He inexcusably missed an opportunity to head clear the ball. Such mistakes cannot become a norm, even if he is still 19.
Chambers will rebound against Galatasaray as it was the first time in a quite a while that he had played at center back until the weekend. He needs to and will readjust quickly to playing at center back, especially with a need to rotate Koscielny.
Left Back – Gibbs
It's truly a shame that Nacho Monreal will miss the next couple weeks with an ankle injury. He had been playing very well and Kieran Gibbs could use a rest every once in a while.
Another option here could be Flamini, who played left back during Arsenal's run to the Champions League Final in 2006. Flamini is needed elsewhere though.
This would be a perfect game to rest Gibbs but the manager has no choice but to start him.
Defensive Mid – Flamini
Mathieu Flamini again gets the start, mostly because there is no other healthy midfielder who could play in his role.
His form hasn't been awful, but he will need to put in a good performance in a hostile environment.
Central Mid – Ramsey
Aaron Ramsey took his goal well and hopefully will continue to kick on. His form has improved slightly of late but maybe this goal will give him the needed mentality to play more freely and naturally.
He had been forcing things of late but look for this to change in this important month of December
Attacking Mid – Rosicky
Tomas Rosicky has only started one match this season, and that was in the League Cup.
He had been suffering from a thigh injury, but was a game time decision over the weekend. Santi Cazorla could use a rest and Rosicky deserves an opportunity to prove himself.
Wide Right – Oxlade-Chamberlain
This would have been the perfect game to give Theo Walcott his first start of the season however inflammation in his groin is keeping him out and it's not clear when he will return.
The Ox has been suffering from various small injuries the past couple weeks but with no other player that can play out wide on the right; he will have to start if healthy. It's unlikely he will finish the game though.
Wide Left – Podolski
Like Rosicky, Lukas Podolski has not featured much this season, mostly making cameos off the bench.
He has featured in the last two games though and this would be a great game to give the German a start, especially seeing as Alexis will not start. Podolski is the obvious replacement for Alexis in this position.
Striker – Sanogo
Yaya Sanogo was impressive against Dortmund, but left the field with a hamstring injury. He is back and healthy now and Danny Welbeck has been suffering small niggling injuries this past week, and could use a rest.
Olivier Giroud was thoroughly unimpressive over the weekend and having just returned from injury, he could make an appearance off the bench.
In a match where the manager is looking to rotate, Sanogo is more deserving of a start than Giroud.
(4-3-3)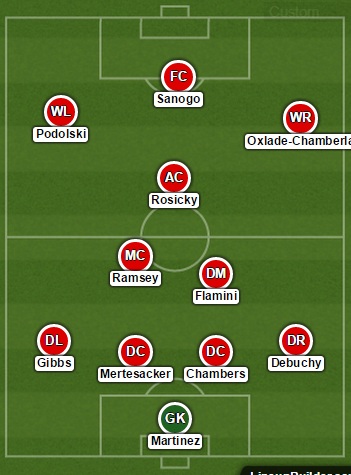 Via – Lineup Builder