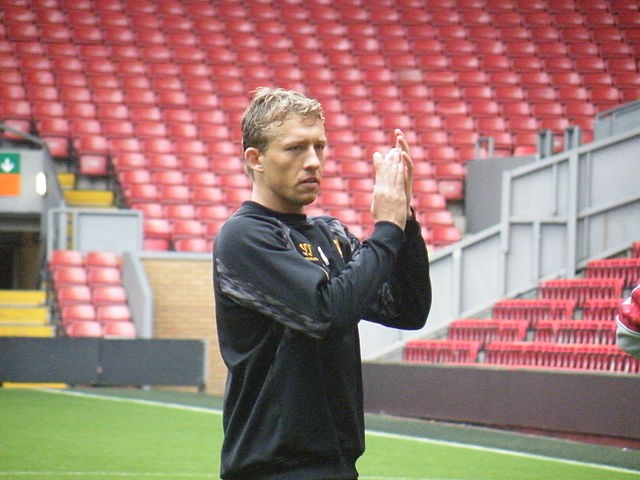 A subtle change in approach has led to two straight victories for Brendan Rodgers and Liverpool. A large part of that change has been putting in veteran player Lucas Leiva as one of the two midfield shields in front of the defense. Prior to that, the back-line was often exposed to opponent's attacks as a result of Steven Gerrard's lack of speed.
The more consistent results and the better defense should dissuade Rodgers from even thinking about selling Lucas, to a team such as Inter Milan.
Although he is wanted by many teams, it would be unwise to allow him to leave since no one else on the team is capable of doing what he does. He is the type of player that all managers enjoy having, someone who is willing to do the dirty work that allows his teammates to focus on other things.
Whether paired with Joe Allen or Jordan Henderson, Lucas allows them to pay more attention on keeping the ball and starting offensive movements instead of worrying about moving too far away from the defense in case the opponents begin a counter-attack. Playing the Brazilian has also allowed Rodgers to move Gerrard further up the field, where his passing and finishing ability is more useful.
If Lucas leaves, no one else would be able to replace his style of play. Allen is the closest player that the squad has who can mirror the skills of Lucas, but the Wales international is less physical and more of a passer than an enforcer. Emre Can is bigger, but he likes to venture forward more than Lucas, who is perfectly content to sit back and wait for the action to come to him, and Can does need time to develop.
Of course, Rodgers could venture into the transfer market and spend money on a player like Southampton's Morgan Schneiderlain but why buy a player when you already have one that fills the role perfectly?
One has to wonder whether Rodgers would consider changing back to the 4-3-1-2 formation he used much of last season instead of the 4-2-3-1 that he is currently using, when Daniel Sturridge returns from his injury spell. Gerrard excelled at the bottom of the midfield diamond as the "quarterback" of the team and he was often the one who started many of Liverpool's attacking movements.
Overall, Lucas' career in Liverpool has been a roller coaster, but Rodgers should give him a chance to show that he can be one of the solutions to the defensive problems that the team has had the past two seasons.