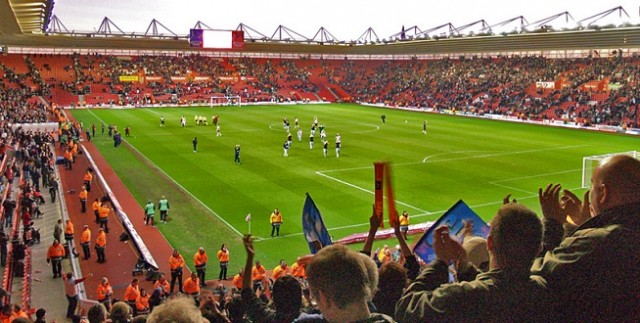 On Monday, 8th of December 2014, 12 PM (Pacific), Southampton will entertain a somewhat rejuvenated Manchester United at St. Mary's Stadium for round 15 of the English Premier League, on a match of the utmost importance for both sides which will bring put two outstanding Dutch managers, Louis Van Gaal and Ronald Koeman face to face, each one of them with fairly distinct game styles.
Manchester United
Given the team's latest results, it is fair to claim that Manchester United are trying to recover the time they lost earlier this season. With four consecutive wins, United is already on the fourth place of the EPL, just one point behind their upcoming rivals, who currently occupy a very respectable third place.
The prophets of doom that had already ruled out United from the top five battle this season are certainly now rethinking their previous statements and are also now looking at the Red Devils' slow but steady development as a clear sign of Van Gaal's meticulous work. One cannot fly a plane while building it and the charismatic Dutch head coach is no different, regardless of his immense managerial skills.
After several failed tactical approaches, Van Gaal seems to have found an answer to United's tactical void, which probably is somewhere between a bold 3-5-2 formation and a more conservative 4-1-3-2 style with the experienced English midfielder Michael Carrick acting as some sort of regista, or deep lying playmaker if you like, between the defensive and midfield lines.
Last Tuesday, the Red Devils had to dig very deep to overcome a brave Stoke City that, despite their constant defensive inconsistency, managed to cause plenty of danger up in the front. Led by a rejuvenated Marouane Fellaini and by the Spanish dynamic duo formed by Juan Mata and Ander Herrera, United were not only bosses of the midfield line for large periods of the match but also managed to create plenty of dangerous attacking movements to Begovic's goal.
United ended up by winning the match 2-1, but they have to thank their Spanish goalie, David de Gea, who saved the team from another embarrassing draw on the dying moments of the match, where he put up two spectacular saves that prevented the Potters from grabbing the much wanted equalizer. Despite of the notorious general improvements, there is still plenty to do, especially back in the defence, where United still appear to be very, very fragile.
The clash against the Saints will certainly be far from easy, not only because of the opponents' high quality standards but also due to the large number of important injured players that will not be at Van Gaal's disposal for the match.
Southampton
As for Southampton, the Saints have experienced that sour taste of defeat on their last two matches against two opponents that, in theory, are fairly superior to them, but such defeats don't serve by, any means, to pinch the team's splendid campaign at EPL so far.
After the "slaughter" that took place at the team over the summer, with their most important assets (including their manager) leaving the club, Ronald Koeman was the right man at the right time to carry on with what Pochettino had initiated last term. The Dutch manager didn't feel intimidated by the immense challenge ahead and instead built up a consistent team that transpires quality and vitality from all pores.
Manchester United vs Southampton  Probable Line-ups
Southampton (4-3-3) – Forster – Clyne – Fonte – Aldewereld – Bertrand – Wanyama – Cork – Yoshida – Tadic – Long – Pelle
Manchester United (4-1-3-2) – De Gea – Valencia – Rojo – Smalling – Young – Carrick – Mata – Fellaini – Herrera – Van Persie – Falcao
Manchester United vs Southampton  Match Prediction
The match at St Mary's Stadium will surely be the most exciting of the round and it is hard to name any favourites.
Will the astute Van Gaal be able to break Koeman's solid defence line with quick and lethal counter-attacks or will United's leaky defensive sector become enchanted by Tadic's and Pelle's ingenious attacking movements?
It is hard to find an answer for those questions, but considering both sides' recent performances, Southampton have everything in their favour to snatch a positive result. My prediction is a 1-1 draw.
Manchester United vs Southampton TV Schedule
The Manchester United vs Southampton game will be televised on Directv and NBC Sports Extra on Monday, December 8th at 12:00 PM Pacific Time.