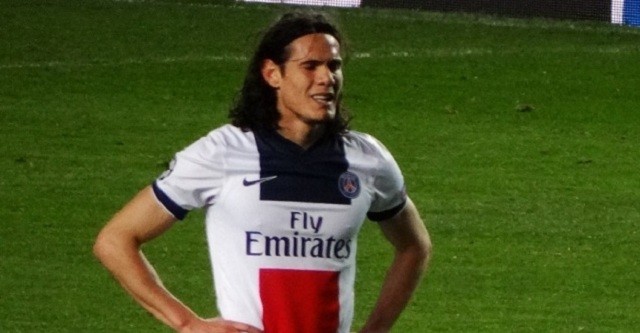 With the winter transfer window as close as it is, Arsenal are preparing to make another big spash. Edinson Cavani seems set to leave PSG soon, and that will surely get Arsene Wenger's ears perking. With an imminent record singing in price for the 27 year old, does the Arsenal manager think Cavani is capable take their attack to that championship level?
With this season beginning in not many wins, it is easy to point at the strikers and say that they aren't doing their jobs. With Oliver Giroud hurt for the majority of the year, Danny Welbeck has had to carry the load at the forward position.
Welbeck hasn't done a bad job, better than a lot of people assumed actually, but he still isn't consistent enough to sit up top alone and disrupt a defense. Cavani is just that, and like he did while in Naples, needs to play alone to have his space. Playing behind Ibrahimovic would hinder any striker's growth, and Cavani could really flourish again playing the lone striker role at Arsenal.
Giroud has made his return a few games ago, and has shown an immediate impact when coming off the bench. In his first action since being hurt, he scored a screamer against Manchester United after coming on late in the game.
When he was in the starting lineup though, he had a similar situation to Welbeck in that he couldn't consistently torment an opposing defense. To win the Premier League, you will need a forward who can make things happen game in and game out, like Thierry Henry during Arsenal's last title run in 2004. Without it will see Arsenal to another top place, but with no silverware.
Cavani will not be a cheap option, but one that Arsenal needs to make to be title contenders. Chelsea have gotten Costa, Manchester City has Aguero, and United have Van Persie and Falcao. These teams are the big dogs in the Premier League for a reason, they compete for the title every year.
Each of the forwards they have are the quality players that Arsenal need to be a consistent attacking force. With the likes of Mesut Oezil and Alexis Sanchez playing behind Cavani, he could see to be a serious threat if brought into Arsenal.
Edinson Cavani was on Arsene Wenger's watch list over the summer transfer window, so expect him to keep an even closer eye on the Uruguay international this winter. Cavani is strong and fast and has great technical ability.
He is just the type of player Arsenal have been looking for to replace the likes of Thierry Henry and Robin Van Persie. Cavani needs to appreciated and remembered as a dangerous lone striker, not as Zlatan Ibrahimovic's backup.