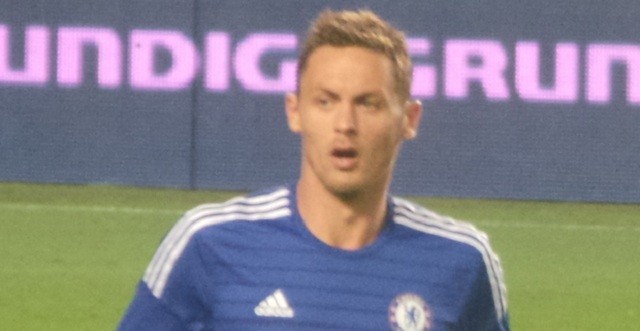 Chelsea visit St. James' Park to take on Newcastle this Saturday (7:45 AM EST), on the back of yet another win against Tottenham at Stamford Bridge. The 3-0 victory extended the Blues home unbeaten streak against Spurs, that dates back to 1990, to 23 games.
Though the Chelsea first team has not changed much throughout the year, squad players will need to step up when called upon in the coming games, as they did against Tottenham.
The Blues cruised to victory behind a 'man of the match' performance from Didier Drogba that had us wondering if we had gone for a drive in the DeLorean with the year set to 2009. The seasoned striker showed that despite losing some of his speed with age, he is as strong as ever.
It truly was vintage Drogba, as he held off his defender and played a quick one-two with Eden Hazard, putting the Belgian clear in for the first goal. Just three minutes later Drogba doubled the lead as he yet again outmuscled his defender, slotting past the keeper.
Loic Remy replaced the Ivorian in the second half and soon after added his name to the score sheet, securing the three points for Chelsea. Where last year, Chelsea strikers could not buy a goal, this year they cannot stop scoring. After the game, manager Jose Mourinho, gave credit to his strikers' play in the absence of star man, Diego Costa.
"I didn't want to speak about Diego not playing because I know what I have," said Mourinho. "There was no Diego but Drogba and Remy both scored. They don't play so many minutes but when they play they are there."
One negative for Chelsea, though, is that they will be without bullying midfielder Nemanja Matic against Newcastle after he earned a one game suspension by picking up his fifth yellow card of the season. However, Mourinho insists that his team must not worry about suspended players and continue their same approach regardless of the personnel on the pitch.
"Most important is our approach," he said. "We don't cry because somebody is suspended, we just try to be positive and give confidence to the players that are going to play."
Mourinho went on to suggest, in a rather wry manner, that with the yellow card suspensions to Costa and Matic and the inevitable suspension of Cesc Fabregas (who is on four yellow cards) he won't have to rest his star players over the busy December period.
Further changes aside from Matic are unlikely when Chelsea lineup against Newcastle this Saturday.
Goalkeeper
Thibault Courtois looks to record a fifth straight clean sheet in all competitions come the weekend.
Defense
Gary Cahill was substituted at half time of the game against Tottenham after picking up a head injury. The 19-year-old Kurt Zouma did well as his replacement, making a number of key interceptions.
"It was a good opportunity for Zouma. It was very good for him. He is playing very well every time he plays," said Mourinho. "Today against Tottenham it was a good test for him. He will be a big player for Chelsea."
The injury to Cahill does not seem serious, however, and he should lineup alongside John Terry, Branislav Ivanovic and Cesar Azplicueta against Newcastle.
Midfield
The only question is who comes in for Matic. The natural replacement is John Obi Mikel, who has been with the club since 2006, making over 200 appearances in that time. Mikel has shown over his career that he is more than capable of playing the defensive midfield role, though he provides less in the air than the 6 foot 4 inch Matic.
Mikel will need to be strong in all respects if he wants to stall a powerful Newcastle midfield led by Moussa Sissoko. Sissoko ran wild on Chelsea two seasons ago in this fixture and if Newcastle are to beat the league leaders again he will surely play a big role.
As soon as Chelsea scored their third on Wednesday, Cesc Fabregas was immediately susbstituted in order to ensure he would not pick up his fifth yellow of the season with Matic already having done so. Look for him to lineup alongside Mikel.
In the attacking roles we are likely to see Oscar, Eden Hazard, and Willian. Hazard scored and assisted against Spurs, while Oscar added an assist. Willian, though his name will not appear in the headlines, was vital to Chelsea's midfield control. His ability to track back and defend is what has earned him the starting spot in front of Andre Schurrle.
Striker
Costa returns from suspension and should go straight into the starting eleven. Nevertheless, Drogba and Remy proved they are more than adequate replacements if needed.
Interestingly, Remy scored in this fixture for Newcastle two seasons ago in that same game that Sissoko dominated.
(4-5-1)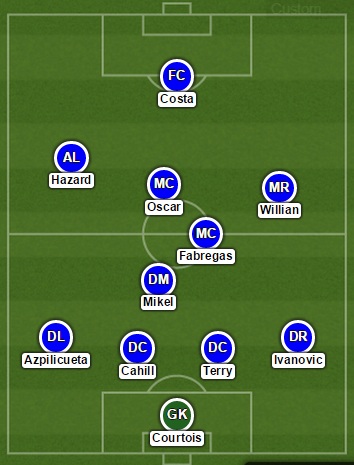 Via – Lineup Builder