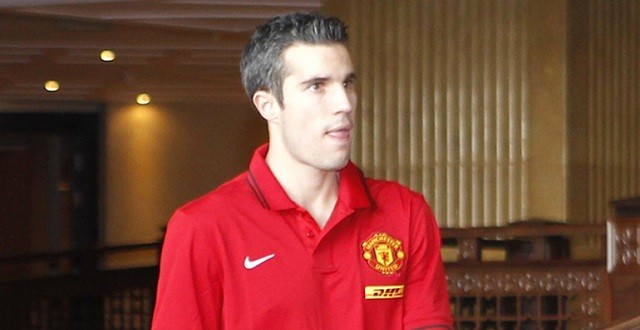 90 minutes of relentless domination – this is precisely what a Manchester United performance used to look like against the smaller fish in the pond, and that's exactly what it looked like this past Saturday when Louis van Gaal's men took on Hull City.
The Red Devils looked sharp in all phases of the game, passing the ball around the pitch crisply like they were taking part in a training exercise and winning back every lost ball with gusto and intensity. Here are 3 major talking points from United's 3-0 drubbing of the Tigers at Old Trafford:
Form is temporary, class is permanent
I found myself using the above phrase to describe a certain Robin van Persie to a coworker shortly after United's convincing victory. Not being an avid soccer fan, he didn't really understand the phrase so I explained it the simplest way I could: a star athlete might not always play to the high standards that you expect of them to but that doesn't mean you should ever discount their ability.
To write off RVP's undeniable quality in the midst of his flagging form would be a grave injustice.
Van Persie had a nightmare against his former club Arsenal. He was a ghost, registering an eyebrow-raising 13 touches before being hauled off for James Wilson. He was so poor that it would be difficult to argue that RVP had ever played a worse game as a Red Devil.
However, being the world-class professional that he is, Van Persie defied his harshest critics like all greats do. His first 10 or 15 minutes were admittedly shaky, yes, but his confidence grew in leaps and bounds with every passing second. His first contribution won't show up on the stats sheet, but the Dutch captain's interfering with Allan McGregor as the Hull keeper attempted to collect a loose ball eventually led to Chris Smalling bundling home United's first goal.
For his next act, Van Persie turned supplier as he cued up Rooney from about 25 yards out with a finely-weighted back pass in the 42nd minute. By this point, he was starting to look a lot more like the RVP who terrorized opponents as United marched to their 20th title and less like the RVP who could be seen sulking around the pitch this season when things weren't going his way.
Van Persie's 66th minute goal was pure class and everything we've come to expect from the Dutchman – a laser of a strike from 20 yards out that soared into the top left corner and sent Old Trafford into a frenzy.
"I am very pleased that Robin scored and that he had a big influence on this game," Van Gaal shared after the match. "He scored three goals on the training ground so I had a good feeling for him."
It was only fitting that RVP departed the match several minutes later to a rapturous applause from supporters who have never forgotten nor doubted his ability to do the unthinkable.
Make that 41 injuries…
The return of Marcos Rojo to the center of defense was a welcome sight (as was the abbreviated 2nd half appearance from Radamel Falcao), but the most troubling aspect of this game was watching Angel di Maria pull up lame.
With United's midfield as fluid as it has ever been under Van Gaal, this seemed like a game where Di Maria was going to flourish.
Instead, United's glass talisman had to come off after picking up a hamstring injury. It's not clear how bad the injury was although it is expected that Di Maria could miss some serious time.
"He shall be out at least on Tuesday," Van Gaal told reporters following the game, "We have to wait to see. Maybe tomorrow we'll know more."
This can't be a welcome sight for anybody who might have thought the team was finally starting to get healthy. Di Maria now joins Jonny Evans, Luke Shaw, Phil Jones, Rafael, and Daley Blind as another casualty in United's injury-blighted campaign.
Suddenly, United looks more like their old selves
If there is anything to take away from this victory, it's how Van Gaal's coaching is starting to pay dividends.
Need proof? Numbers never lie. United dominated the ball with 76% possession as compared to Hull City's paltry 24%. The Red Devils managed 15 shots to Hull's 4 and placed 7 of them on target as compared to Hull's 2. United didn't concede a single corner to the Tigers, but won 7 corners and converted the match-winner off of 1. The biggest number of all though is the only one that matters at the end of the day: 3-0.
De Gea looked bored for once, the midfield looked industrious and imaginative, Old Trafford was bumping, Van Persie played like Van Persie, Mata played his best game of the season, and Rooney looked sharper than he has in a long time.
Even the boss, a rather sultry old figure with generally sobering post-match observations, was satisfied with his team's effort.
"It was the best match of our season," Van Gaal said. "What pleased me the most was the way we dominated the game from the first minute to the last minute. It was the first time we have done that. We created many chances, we did not give the ball away too much unnecessarily and we kept a clean sheet again."
Need I say more?
This is the type of machine-like efficiency and ascendancy that fans of United have been hoping to see from their team ever since Ferguson stepped down. By no means should anybody be proclaiming that they're back (after all, it's only Hull City), but Manchester United is back in the top 4 and headed in a very positive direction.
Co-Man of the Match: Chris Smalling
Hard to fathom but, no, this one is not a typo. If you watched the game, you would be hard-pressed to believe this was the same guy who found a way to get himself sent off half an hour into the Manchester derby. Not only did Smalling bag the winner, but he also proved to be the perfect combination of silk and steel all afternoon and everything he did looked effortless.
Glided forward with tremendous grace on the ball, led the line like a seasoned pro, and looked an awful lot like the center back this side has been crying out for since Rio Ferdinand left in the summer. He's quickly pulling away from Evans and Jones as the preferred senior partner of choice to Rojo at the back.
Co-Man of the Match: Juan Mata
Juan Mata's future has been up in the air seemingly ever since he landed at Carrington in a chopper, but he proved how valuable he really is. Mata was deployed in a much deeper midfield role than he is normally accustomed to, conducting a wonderful midfield orchestra with purpose and ease.
His passing and control were sublime, he created opportunity after opportunity for his teammates, and he even chipped in with a couple of decent tackles. Inspired all-around display from the Spaniard – let's
hope there's more where that came from.
Honorable Mention: Wayne Rooney
I am perhaps one of Wayne Rooney's harshest critics, but it would be wrong for me to look the other way when he's playing as well. Rooney is enjoying himself as the heartbeat of this team at the moment, and his effort on both sides of the ball was once again outstanding.
His sweet curler from the edge of the area was beautiful and effectively sealed the result before halftime. I'm not saying that he's converting me into a believer because I'm still not sure if he is the right person to wear the armband, but it feels like he's on the brink of something special and his first touch hasn't looked this sharp in ages.
Mediocre Man of the Match: Marouane Fellaini
How can you award a "Flop of the Match" when virtually everyone plays well? Fellaini gets the nod here not because he played poorly here but because he was a little too average. Defensively, his work rate was fine, but he once again added very little to this contest when his team was in possession.
He didn't add as much as other players like Carrick and Mata, and he could well find himself on the periphery of this crowded midfield if he doesn't buck up his ideas. Fellaini should take careful note that Herrera, the player whose starting spot he effectively took after unfurling that scorcher against West Brom, firmly grasped his opportunity with both hands after replacing Di Maria.