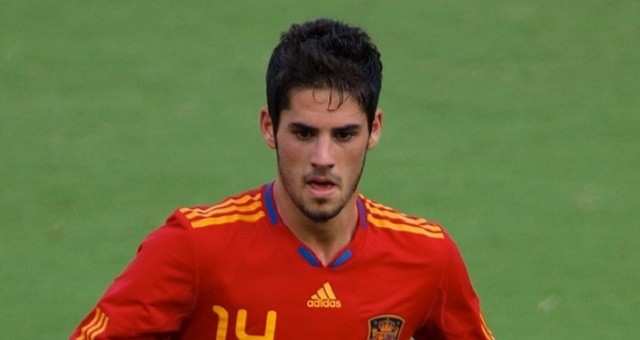 As the January transfer window moves closer, there is more and more speculation on who will bolster the Arsenal defense.
The new hot topic around North London though, is the intriguing interest between Arsenal and Real Madrid youngster Isco. Real Madrid are always looking to sign some more big names during the transfer window, and that may mean players like Isco will be forced out.
The 22 year old Spaniard arrived at Madrid from Malaga in 2013, and has since shown why he was worth the 30 million price tag Real paid. He is a budding star for the Los Blancos, and at such a young age, has a great career to look forward to. If Arsenal were able to snatch him up, their attack would be one of the scariest in the Premier League.
The only knock on this transfer is that Isco plays the attacking midfield position, a position that Arsenal have many players already fighting for. The likes of Aaron Ramsey, Mesut Oezil, Alexis Sanchez, Santi Cazorla, Theo Walcott, Jack Wilshere, and Alex Oxlade-Chamberlain are all competing with each other for a spot in the attacking midfield.
Isco is surely a huge talent, so he would too command a great argument for his place in the lineup. Arsene Wenger would have his hands full week in and week out sorting out the starting eleven.
The noticeable thing about Arsenal's midfield is that they are lacking on the defensive side. There is no real solution to the position on the roster, so Arsene would have to go with another make shift defender.
Arsenal has many attacking options to choose from, none of which would be too keen to be thrust into a defensive role though, e.g. Arteta. Isco possesses the talent and work ethic to be a defensive player, which he has shown in certain instances while at Madrid, but his mind will always be set to attack, similar to an Aaron Ramsey.
Wenger would be wary to make that move because like that because Arteta's weaknesses have shown the necessity to have a defensive minded player holding the midfield, which is something that Isco surely isn't.
Francisco Román Alarcón Suárez, known by the public simply as Isco, would definitely cost a pretty penny to move to North London. History has shown that Arsene Wenger is very reluctant to open his check book, and the huge price tag placed on Isco would be enough to give the Arsenal manager a heart attack
After splashing on Mesut Oezil and Alexis Sanchez lately, it is hard to imagine Isco in a Gunners shirt any time soon.
https://www.youtube.com/watch?v=f93shUdjexI