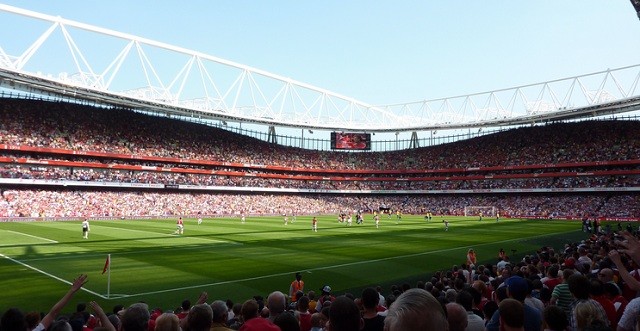 Arsenal face West Brom Saturday at The Hawthornes, in a match that could provide an opportunity to build some momentum. West Brom lie in the bottom half of the table, having only won 1 in 6.
Arsenal currently lies in 8th, but their performance against Dortmund was promising, and they have a couple of players returning from injury.
Olivier Giroud should play a large role in this match, while Laurent Koscielny will continue to make his come back and will most likely feature on the bench again after recently making his return to training.
There is unfortunate news however as Jack Wilshere will be out at least 3 months after undergoing surgery on the ankle he injured against Manchester United last weekend. Mikel Arteta limped off against Dortmund, with Arsene Wenger claiming he will miss a significant amount of a time, although no timetable has been set.
The status of Wojciech Szczesny, Danny Welbeck, and Theo Walcott are all unknown, while writing this. Szczesny was taken off against Man U and no timetable was set for his return, although it was initially reported the injury was not serious. Welbeck injured his knee early in the week but was able to make the bench against Dortmund. No timetable or update on his status has been given. The same goes for Walcott who is currently suffering from a groin strain. The injury is not believed to be serious but no return has been given.
This match is certainly an important one, at the very least, for Arsenal to get a string of wins together and slowly build their confidence. What was remarkable about the Dortmund match was that they defended as a team, and did not push forward unnecessarily. They were content with the score and played to keep it that way, something that we did not see for much of the season.
If they can keep that up, their confidence will come, as will their belief in each other. A small springboard is what they need and to get there, they need to take tiny steps. This weekend's match is one of those tiny steps.
Having said that, here is Arsenal's probable lineup:
Goalkeeper – Martinez
Seeing that Szczesny wasn't fit enough for Dortmund, I would have to guess he will be short this weekend as well. Emiliano Martinez looked solid against Dortmund, and the injuries to Arsenal's two top goalies doesn't like as scary as before.
Right Back – Chambers
Mathieu Debuchy is still out injured and there is no reason to believe that Calum Chambers won't start. He was solid against Man U and Dortmund, consistency is key for this young player.
Center back – Mertesacker & Monreal
With Koscielny back in training and fit enough to make the bench, Arsenal's injury crisis looks to slowly be relieved.
Nacho Monreal has not been the problem, but Per Mertesacker clearly misses his first choice partner.
I think that playing out of position was a good experience for Monreal as a player and created an appreciation of him by the fans. This can only build up his confidence, which is good for Arsenal when they need to call on him.
Left Back – Gibbs
Again there really isn't anyone else to play, even though he may be in need of a rest. When Koscielny returns, Monreal and Kieran Gibbs may rotate a little bit to allow the Englishman some rest. This will be key for Arsenal as it is imperative they keep Gibbs healthy.
Defensive Mid – Flamini
Having seen Arteta limp off against Dortmund, it looks like Mathieu Flamini will be getting a run of games in the first team.
If Arsenal defend as a team and look to defend score lines like they did against Dortmund, this will benefit Flamini, as he thrives in organizing players ahead of him. This is if they players ahead of him are willing to defend. Much of this will ride on Flamini's performances from here on out.
Central Mid – Ramsey
Aaron Ramsey called on the team to perform for Wenger, who seemed somewhat beleaguered after last weekend's game. This starts with a need for Ramsey to improve his overall performance.
With Wilshere out for an extended period of time, there won't be much competition for Ramsey's place in the squad. His form must improve.
Trequartista – Alexis
Alexis Sanchez will continue to do what Alexis does best. Score, create, run, defend, close down, tackle, drive, just play football in general.
Could be the best signing of the season so far, with some competition from Diego Costa perhaps.
Wide Right – Alex Oxlade-Chamberlain
His form has been formidable the past couple of weeks and has looked Arsenal's second most dangerous player. He was unlucky to not score against Dortmund when his half volley thundered off the crossbar.
His crossing could improve, but his drive and ability to cut inside players has made him look dangerous every week the past month.
Wide Left – Cazorla
He will switch positions frequently with Alexis, and will constantly move into the middle of the field where he is most dangerous.
His form has been improving over the past week. He looked especially good against Dortmund.
Stirker – Giroud
Giroud will make his first start of the league Saturday. He would have started against Dortmund if he had been registered for the Champions League, but Yaya Sanogo performed admirably, scoring his first senior goal for Arsenal. Unfortunately Sanogo limped off injured, holding his hamstring.
Welbeck is in need of a rest; this is probably why he injured himself after last weekend's game. Welbeck will be on the bench, in this one, and Giroud will make an impact in his first start.
(4-5-1)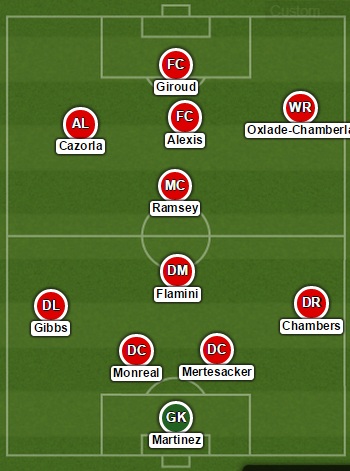 Via – Lineup Builder