In their two games since returning from the international break, Chelsea have scored 7 and conceded none. Even more impressive, is that both games were essentially over before half time. The ease with which Chelsea controlled the pace in these games will bode well for their fitness over the congested December fixture list, fast approaching.
In midweek The Blues faced former Chelsea player and manager, Roberto Di Matteo, thrashing his Schalke side 5-0 in Germany. Another former player, Gus Poyet, will be hoping his Sunderland side do not befall the same fate when they welcome Chelsea to the Stadium of Light on Saturday (12:30 PM EST).
Chelsea managed a 4-3 win in this fixture last December, but were on the losing end of a 2-1 score line in the return fixture in April. The Black Cats followed that stunning victory with three more, propelling them from the bottom of the table to just outside the relegation zone just before the year's final contest.
Chelsea, though, are much stronger than they were last season, and will seek to continue their unbeaten record in the Premier League come Saturday. It seems that Chelsea improve with each game, a point that captain, John Terry reiterated after their most recent conquest.
"We are playing very well and game by game we are getting stronger which is great," Terry said. "We are looking a real threat going forward and defensively we are looking very tight as well which is also very important in this competition [Champions League]. If we can keep the balance of both then we have a great chance. "
Mourinho had similar praise for his club on Tuesday, and was especially impressed with the clubs performances away from home, something they'll be looking to continue this weekend.
"I don't remember Chelsea playing in this way away from home," stated Mourinho. "Obviously there have been some great victories away from home – with me, with other managers -but this was very impressive, very complete. The reality is tonight any team that played against us would find it very difficult because the players were fantastic."
The Special One also touched on the way in which Chelsea is winning games, suggesting that when the team is playing well, the players are able to both enjoy their football and conserve their energy, saying that, 'the ball does the work.'
To further please the manager, Chelsea's injury list is empty. Despite another scare on Tuesday in regard to Diego Costa, the manager insists the striker is fit to face Sunderland.
When the squad is fully fit there is little question as to who Mourinho favors in each position and with the comfortable performances against West Brom and Schalke it is unlikely their will be changes this weekend.
Goalkeeper
Courtois has had little to do in the two games since the international break, but has made the saves when called upon, keeping two clean sheets. He will look to do the same against a Sunderland side that has only managed 12 goals in 12 games.
Defense
There is no doubting who Mourinho's top choice back four is. Branislav Ivanovic, John Terry, Gary Cahill and Cesar Azpilicueta have played 10 of the 12 league games this season. The only two exceptions came when Azpilicueta was out through suspension.
Familiarity amongst the back four can only help improve the solidity of a Chelsea defense that is second, behind Southampton, in goals against in the Premier League. Furthermore, Chelsea rank first in tackling percentage, winning 83 percent of their tackles.
Midfield
There does not seem to be a weakness in Chelsea's midfield, and if they've got one, they've done well not to show it over the first third of the season.
In the attacking third, they are led by Cesc Fabregas, Eden Hazard and Oscar. The trio moves the ball around opposing defenses with ease and is a big reason why Chelsea has the best pass completion percentage in the final third.
Chelsea's midfield has also scored 14 goals in 12 league games. That is nearly half of the team's league leading 30 goals. The 14 goals are spread among 7 midfield players, further indicating the wide range of players who are contributing to Chelsea's success.
Look for Willian and Nemanja Matic to start alongside Fabregas, Oscar and Hazard against Sunderland.
Striker
Mourinho insisted that Costa would be fit for Sunderland, leaving little doubt of who will get the start. The summer signing has 11 goals in 10 games and sits one behind Aguero in the league charts. He will be looking to surpass the Argentine when he goes up against a porous Sunderland defense.
(4-5-1)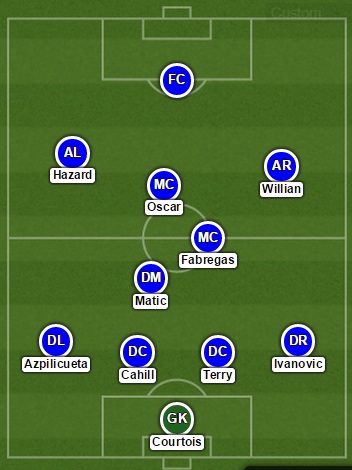 Via – Lineup Builder