Arsenal and Dortmund face off for their second match up against each other in the Champions League group stages. Arsenal is coming off probably their most disappointing and infuriating performances of the season. Dortmund haven't been better in domestic football either, their last result ended in 2-2 against SC Paderborn.
Dortmund has already qualified and will secure first place with a win or a draw against the Gunners. Arsenal needs a draw to automatically qualify and a win against the German side to have any chance of topping the group.
Arsenal will be without the services of Jack Wilshere and Olivier Giroud. Wilshere was injured against Manchester United over the weekend and the extent of his injury, while writing this, is unknown.
Giroud returned to first team action this weekend, scoring a stunning consolation goal, but was omitted from the clubs list of 25 players eligible for the Champions League group stages as he was supposed to be injured until the end of December. Positive injury news ironically can still be turned into negative news for Arsenal. He will be eligible to be put on the list for the knockout stages if they qualify.
Wojciech Szczesny should be fit to play on Wednesday night after being taken off against Manchester United, for what Arsene Wenger described as a minor injury.
A vocal section of the fans during and after Arsenal's match this weekend, were calling for Wenger's resignation.
Feeling the pressure, and reeling from the loss, the manager locked the players in the dressing room after the match and gave them a dressing down. He did make it clear he wasn't angry with the players though.
A victory against Dortmund will go a long way for the Gunners in terms of slowly rebuilding their confidence and rebuilding the trust between the fans and the manager.
Here is Arsenal's probable lineup versus Dortmund:
Goalkeeper – Szczesny
It seems that he will be fit to play, as he was in training and Wenger was quick to qualm fears of a serious injury.
Right Back – Chambers
His performance was much improved against Manchester United compared to what we saw against Swansea. Playing him at center back would make more sense but this topic has been written about to death.
Center Back- Mertesacker & Monreal
It's hard to blame either for Man U's first goal but the fact that Nacho Monreal was the only player back for Man U's second goal was odd.
A fullback should have been back there with Monreal, Gibbs most likely should have been back with him. There really isn't much to say about this back line that hasn't already been said before, for a month now.
Left Back – Gibbs
Kieran was unfortunate to commit an own goal, maybe better judgment from him could have been expected but it would be harsh to blame him for the defeat.
A good performance from Gibbs is imperative against Dortmund, as Dortmund was able to exploit Arsenal on the flanks through counters. Arsenal will need both Gibbs and Chambers alert and disciplined.
Defensive Mid – Arteta
When Mikel Arteta is on the field, Arsenal plays better defensively and with possession, it's a simple fact. If Arteta could stay healthy and get a string of games, it could go a long way for Arsenal to slowly rediscover their form, as optimistic as that sounds.
Central Mid – Ramsey
Aaron again put in a performance that left much to be desired. A good performance against Dortmund will be welcome, but it's unclear what to expect from Ramsey this season.
Trequartista – Alexis
With Wilshere injured, Wenger will play Alexis Sanchez through the center of the field and allow him to play in the freer role of trequartista.
Alexis looked tired and jaded against Man U after completing all but 5 minutes of two friendlies for Chile the previous week.
Four days rest will do the Chilean wonders, but its unlikely he will be in top form against Dortmund considering the amount of games he's played for both club and country.
Wide Right – Oxlade-Chamberlain
The Ox looked dangerous against Man U and was arguably Arsenal's best player.
Walcott is out injured with a groin injury, not surprising considering how long he has been out. There is little other option for Wenger.
If Alex can keep his form up, Arsenal may have a small chance on Wednesday.
Wide Left – Cazorla
Santi Cazorla came on late against Man U and looked creative but lacked a cutting edge. This has been the script for Cazorla this weekend.
Against Dortmund its either Cazorla or Lukas Podolski on the left wing, and considering that Podolski couldn't buy a minute on the field at the moment, Cazorla is the obvious choice.
Striker – Welbeck
Because Giroud is unavailable for the Champions League as of now, Danny Welbeck will have to start.
Yaya Sanogo could start, considering Welbeck has played so much for both club and country. Danny was suffering from a hamstring injury before the Man United game so his fitness may come into question, but it's unlikely that Sanogo will usurp Welbeck for a starting position against Dortmund if Danny is healthy.
(4-5-1)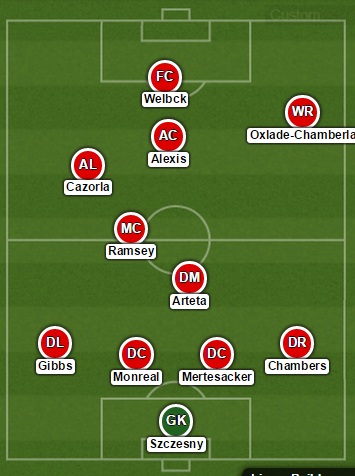 Via – Lineup Builder