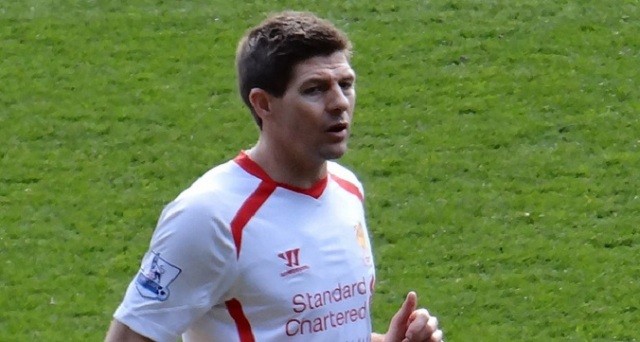 After a 3-1 defeat at the hands of Crystal Palace, Brendan Rodgers and Liverpool have now lost four straight games. Rodgers has struggled to find the right set of players that could be aggressive in attack, but also capable of shutting down the opponent while defending. A match against Bulgarian team, Ludogorets, will be a good opportunity for the Reds to gain some much needed confidence.
The last time they played Ludogorets, Rodgers used a 4-3-3 formation and this allowed Liverpool to widen the attack using the full backs. Look for Rodgers to stick to this formation in the hopes that it will once again lead the team to a vital win in the Champions League.
Goalkeeper
Simon Mignolet will continue to start almost all of the matches, at least until the team decides to bring in some competition.
He has not had many clean sheets which has definitely hurt his confidence but one will hopefully be there against the rather weak attack of the Bulgarian club.
Right Back
Both Javier Manquillo and Glen Johnson started the last match but given Manquillo's younger legs, he should be more fit to start this game rather than the aging Johnson. The Spaniard had one of his better games against Ludogorets the last time out.
He should have plenty of opportunities to cross the ball into the opponent's penalty box, but he should also make sure that he does not forget about his defensive duties.
Center Backs
Rodgers should really think about starting one or both of Kolo Toure and Mamadou Sakho over Martin Skrtel and Dejan Lovren. Toure has not started another game since his great performance against Real Madrid.
Even though he has lost some speed, his instincts are still sharp and he has a ton of experience. Sakho, on the other hand, just came back from an injury and this match should be a good opportunity for him to get back in to the flow of the team against a team that is not s great offensive threat.
Left Back
Since Alberto Moreno was rested during the weekend match, he is likely to start against Ludogorets. In the last match against the Bulgarians, Moreno was able to dominate the left side of the field and he was the one who provided the assist for Balotelli's goal.
He should once again be allowed to roam forward to provide width to the Liverpool attack. He will also have to be conscious not to allow the opposing player to get behind him on a counter attack.
Midfield
Steven Gerrard has been one of the leaders in appearances this season but it looks like he deserves a rest after a lackluster performance against Crystal Palace.
As such, a starting midfield of Jordan Henderson, Emre Can and Joe Allen is likely to be Rodgers choice. This group of players should be able to bully the Bulgarian opponents and that will allow them to control possession.
If Rodgers wants a more creative player to take a spot, Adam Lallana can replace either Allen or Can. Henderson missed the last match with an illness but he should be completely fit for this Wednesday.
Forwards
Rodgers has yet to find the right group to spark the Liverpool attack but one made of Lazar Markovic, Balotelli and Raheem Sterling will hopefully be enough to beat the opponents. Markovic has yet to really make an impact so far but this will be a good opportunity for him to make a case for more minutes.
The last match against Ludogorets was one of the few highlights in Balotelli's short time at Liverpool. He was arguably the best player on the field and he will be looking for another performance like that one.
Sterling has been unable to replicate his form from the previous season without Daniel Sturridge but he is still the team's biggest attacking threat and he should be able to dominate the defenders marking him.
(4-3-3)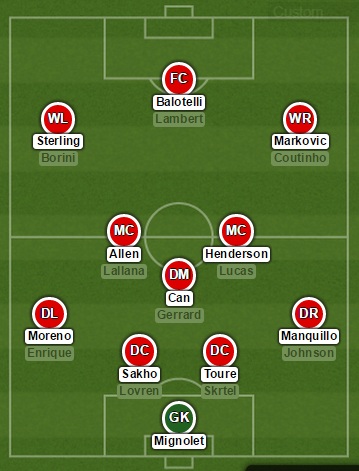 Via – Lineup Builder