Chelsea travel to Gelsenkirchen on Tuesday (245 EST) to take on Schalke, where they'll face Chelsea club legend, Roberto Di Matteo, who has been in charge of Schalke since October. A win in Germany will see The Blues qualify for the knockout stage of the Champions League with one game to spare.
Di Matteo scored 26 goals in 175 appearances in Chelsea's midfield from 1996-2002, before a triple leg break forced him into retirement at just 31 years of age. He returned to the club in 2011, as the assistant to Andre Villas-Boas and became the manager in March 2012, upon Villas-Boas' dismissal. His legendary status was cemented on May 19th, 2012, when he guided a depleted Chelsea side past Bayern Munich in the Champions League Final. This was Chelsea's (and London's) first Champions League title.
The man looking to lead Chelsea to a second title, Jose Mourinho, insists that Chelsea's focus will and must be on the match, rather than the manager.
When asked about Di Matteo, Mourinho said, "I don't play against him. If I play against him, he wins because he plays better than me. Unless I am fitter, which I don't know, but normally he wins because he is much better than me. It is Chelsea against Schalke, it is not me against Di Matteo."
Mourinho is confident his team can get the better of Schalke after their performance in a 2-0 win over West Bromwich Albion on Saturday. The manager was especially impressed by the play of his team in the first half.
"The first half was brilliant, beautiful," praised Mourinho. "The quality of our football was high, another dimension. We were playing so well, so fast and fluid. We made the pitch wide, creating spaces to play. We scored two goals and should have scored more than that, it was fantastic."
Chelsea had one eye on midweek as they exerted minimal energy in the second half against a ten-man Albion side. Nevertheless, with 10 games in the next 34 days, Mourinho will be looking to rotate his side to keep the players fresh. With that in mind we should expect a few changes for the team against Schalke.
Goalkeeper
Petr Cech and Thibault Courtois have each played 2 Champions League games this season. Both of Cech's starts came against Maribor, and it was Courtois who got the start against Schalke on matchday one. Courtois should start again.
Defense
Filipe Luis, John Terry and Branislav Ivanovic has gotten the start in all four of Chelsea's Champions League games this campaign. The question is then, whether Gary Cahill or Kurt Zouma lineup alongside Terry in the center of defense.
Cahill, who has started all of Chelsea's League games, was rested in both games against Maribor, the lesser of Chelsea's three group stage opponents.
However, it is likely he will get the start on Tuesday, in the hopes that Chelsea can secure a place in the knockout stage and be able to rest their stars against Sporting Lisbon in two weeks time.
Midfield
Nemanja Matic, Cesc Fabregas, and Eden Hazard, have have been mainstays in the Champions League fixtures. The central midfield partnership of Matic and Fabregas has been a dominant force in all competitions. Their ability to control the possession as well as the pace has led to Chelsea remaining undefeated on the season.
Hazard has two goals in four Champions League games, and continues to improve his play under Mourinho. The 23-year-old Belgian is at his best when cutting in from the right and running at defenders in the box.
Willian and Andre Schurrle have split time on the left, though it appears Willian has won the starting role in recent weeks. However, with the congested fixture list, rotation will be key. Look for Schurrle to get the start in his home country on Tuesday.
Oscar has impressed in the central attacking role throughout the season. In years past, the Brazilian has been criticized for a lack of fitness towards the end of the season. Though, given his recent performances it will be difficult to leave him out in such a pivotal game.
If Mourinho decides to rest Oscar, his best option is Ramires who has often played in the center of midfield for Chelsea. In that case, Ramires would likely occupy the space alongside Matic, with Fabregas moving forward into the number ten role.
Striker
Diego Costa, Loic Remy and Diego Costa have all started Champions League games this season. The trio are fit for selection for the first time in the Champions League this season, but Mourinho will be careful not to aggravate any injuries.
Despite the injuries, Chelsea's strike force has been lethal, managing 16 goals in 16 games. Costa, who scored his eleventh Premier Legague goal on Saturday, has yet to play 90 minutes in the Champions League.
Look for that trend to continue as he comes off the bench if needed. Remy is the favorite to start, though it would not be surprising if Mourinho opted for the experienced Drogba, who's penalty secured the title for Chelsea and Di Matteo on the fateful night in 2012.
(4-2-3-1)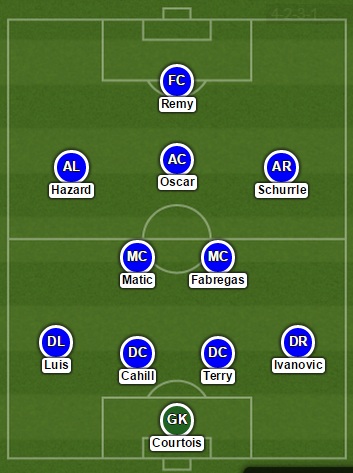 Via – Lineup Builder