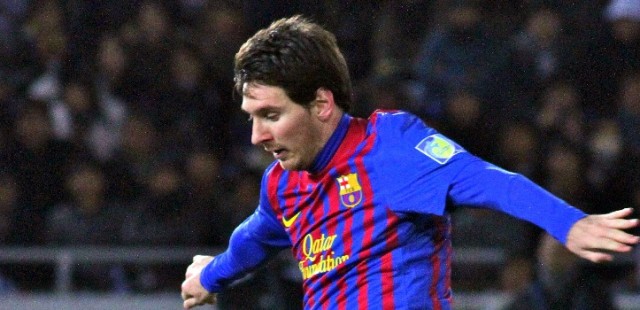 Lionel Messi almost joined Cesc Fabregas at Arsenal as a teenager in 2003. That year a 15-year old Fabregas made the move from Barcelona to London.
The Guardian reported that Arsene Wenger tried to sign Fabregas, Gerard Pique, and Messi at the same time. Fabregas was the only player that ended up signing.
Wenger was quoted as saying as much, "We wanted to take Fàbregas, Messi and Piqué. It worked only for Fàbregas."
The Guardian reported that according to a recent biography, Messi's deal fell through because the Gunners couldn't afford a flat for Messi's family, who wanted to make the move with the teenager.
Wenger disputed that this was the only reason that Messi didn't make the move. According to Wenger, Messi felt settled in Spain and was happy at Barcelona, so a move was always unlikely.
This isn't the first time that a report has come out that Arsenal almost signed a world-class player as a teenager.
Zlatan Ibrahimovic almost made the move to North London, but when Wenger told Zlatan he wanted to bring him in for a trial before signing him, Zlatan said no. Zlatan ended up signing for Ajax instead.
Cristiano Ronaldo toured Arsenal's training ground and even had a shirt printed out for him before Sir Alex Ferguson came in and out bid the Gunners at the last minute. Ronaldo's mother took a liking to Wenger, but money had a louder voice.
Wenger was a known admirer of Didier Drogba and Arsenal had the chance to sign him before Drogba's move to Marseilles. A transfer never materialized and Wenger decided against it, last minute. A similar situation occurred with a young Claude Makelele.
When you look at the list of players Arsenal almost signed according to Wenger, they could have been one of the greatest teams ever.
Realistically though, if Wenger had signed some of these players, he might not have signed others who have made an impact. It's difficult to gauge exactly what Arsenal would look like had they signed any of those players, and how those players would have developed compared to today.
It's also incredibly likely that every major European team have stories like this. Some of them work out, some of them don't.
It's hard to imagine a player like Lionel Messi not making an impact, even if he only became three-quarters of the player he is today.