For many supporters, international breaks come as an unwelcome stoppage to the domestic football, for which they fiend week in and week out. The good news is that the third international break in as many months is over. Equally as exciting, the next break for the Premier League isn't until March 2015.
The Premier League returns on Saturday (10:00 AM EST) when league leaders Chelsea take on a thirteenth place West Bromwich Albion side, who have won just once in their last six. Chelsea, on the other hand, remained undefeated this season after beating Liverpool 2-1 prior to the break. The Blues will be confident they can get the three points and remain four points clear of second place, Southampton.
The focus on Chelsea over the last two weeks has been the fitness of star players, Diego Costa and Cesc Fabregas, and the issues it has caused between Chelsea boss, Jose Mourinho, and Spain gaffer, Vicente Del Bosque.
Mourinho blamed Del Bosque for Costa's injuries last month, after the striker returned from international duty with both a muscle injury and a stomach virus, which reportedly put him in the hospital. Costa was left out of the Spain squad this week due to the number of 'crippling' injuries he has suffered this year according to, Del Bosque.
Fabregas who initially travelled to Spain was sent home after doctor's detected a minor muscle injury. Due to the nature of the industry and complaints from the Chelsea camp, the commitment of both players has come into question, though Del Bosque has shot down such notions.
Mourinho won't care given that they are both healthy enough to partake in Saturday's game at Stamford Bridge. He will also be pleased that none of his players who travelled over the last two weeks suffered injuries while on international duty. Look for him to field a strong Chelsea team, full of attacking flare and defensive stability come the weekend.
Goalkeeper
Thibault Courtois had some harsh words for his Belgian teammates last week, but will have no such complaints about his Chelsea defense. Courtois, who has started every league game, will again be in the net against West Brom.
Defense
Chelsea's defense ranks second in the league, largely in part to the health and consistency of the back line. Gary Cahill, John Terry, Cesar Azpilicueta and Branislav Ivanovic have started nine of Chelsea's eleven league games this season. In the other two games, Filipe Luis replaced Azpilicueta due to a suspension. Luis though, will have to wait for another chance as Mourinho went right back to Azpilicueta against Liverpool.
The familiarity between the members of Chelsea's back four has only seen their performances get better over the course of the season. They have not conceded more than one goal since September 13th. The biggest threat to Chelsea is Saido Berahino, who is on the verge of an England call-up, has scored more than half of West Brom's goals this season with 7 in 11 games.
Midfield
The Chelsea midfield is among the strongest in the Premier League, due in part to the tremendous balance between tackling, possession, and attack. Nemanja Matic leads them on the defensive end, as he patrols in front of the backline, sniffing out any opposing attacks.
Alongside Matic is the fulcrum in Chelsea's team, Cesc Fabregas. Fabregas signed from Barcelona in the summer and has been placed in a deep lying role, where he acts as the link between the defense and attack. With 9 assists so far, the Spaniard is on pace to break Thierry Henry's record of 20 in a season. Fabregas came closest to that record, with 17 assists for Arsenal in 2009-2010. The record will surely be his if he remains healthy.
Eden Hazard, Oscar and Willian are the preferred attacking three in the midfield. Oscar has been especially impressive and his performances earned him a five-year contract that will keep him at Chelsea until 2019.
Willian has been favored over Andre Schurrle, but neither has truly impressed. Mourinho has been very open about his feelings regarding the pair, and has been especially disappointed in their finishing this season. Willian needs to start taking his chances; otherwise, Schurrle or Ramires could come in to replace him.
Striker
Diego Costa started the season with 9 goals before picking up an injury and missing four games, but has gotten back to scoring ways after reopening his account against Liverpool just before the international break.
Costa has spent most of the season nursing a muscle injury in his leg and, Jose Mourinho will be pleased with his ommitence from the Spanish side. Costa should be as healthy as he has been this season and will get the start against West Brom.
Loic Remy and Didier Drogba, have also missed time through injuries this season and will have used the break to rest up. Should Costa not be fit for 90 minutes, it is likely that either Remy or Drogba will be on the bench to replace him.
(4-5-1)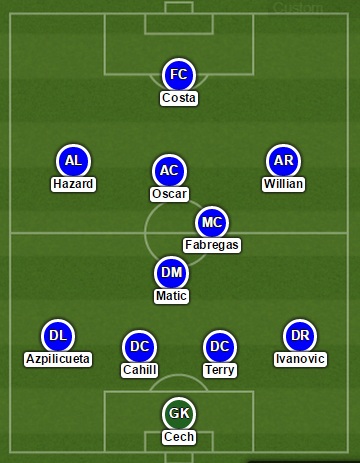 Via – Lineup Builder