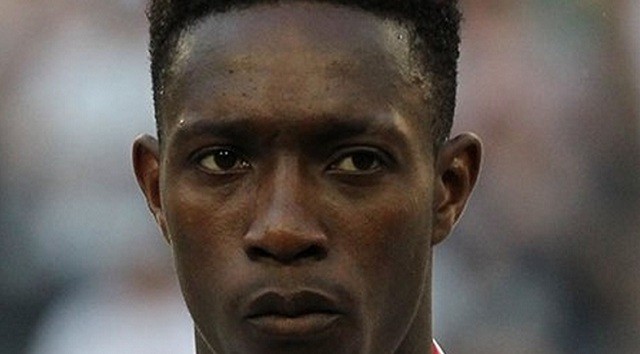 Arsenal faces an intriguing matchup against Manchester United Saturday at the Emirates.
There are certain similarities that can be made between the two rivals. Both teams have started off the season in indifferent form and both have suffered numerous injuries to key players.
United suffered more than Arsenal this international break. They lost both Daley Blind and David de Gea to injuries and neither is going to play this week.
Arsenal on the other hand will have Olivier Giroud returning to the team, he is unlikely to start, providing them an alternate option upfront, later in the game. Theo Walcott will also look to gain match fitness, although its unlikely he will start as Roy Hodgson didn't seem to think he was fit enough to make an appearance for England this past week.
The only turmoil that Arsenal faced over the break was Tomas Rosicky and Lukas Podolski questioning their playing time. Although in fairness to both players, the press posed them the questions, they didn't speak out on their own, so saying that they complained would be harsh.
Over the years, this rivalry has seemed to simmer. Arsene Wenger and Sir Alex Ferguson dimmed down their rivalry publicly, and it had shown in previous matches. Now with Sir Alex gone and a fairly new United team, this rivalry hasn't been the same.
Gone are the days of Roy Keane and Patrick Vieira squaring up to each other in the tunnel, gone are the days of Cesc Fabregas throwing pizza at Sir Alex (allegedly), and gone are the days of crutching tackles and mid field skirmishes.
This match will be very different, much more technical and tactical. Neither team has an enforcer in their midfield anymore, and they both look to slowly build up play and regroup.
Here is Arsenal's possible starting 11 for this intriguing and exciting match up:
Goalkeeper – Szczesny
He was not at fault for any of the goals conceded against Swansea. He will start this weekend, not that anyone is healthy enough to replace him anyways.
Right Back – Chambers
Wenger will continue with the back four that he has played with Mathieu Debuchy and Laurent Koscielny out injured still. Debuchy is about a month away from returning to full training and Koscielny's return date is still unknown.
It would be surprising to see Hector Bellerin start considering his inexperience and Wenger's unwillingness to do so previously.
Center backs – Mertesacker & Monreal
Per Mertesacker has to be put in a good performance for 90 minutes straight if Arsenal is going to play well at the back. He cannot let up like he did at the end of the Swansea game.
Nacho Monreal has performed admirable and will do so. His main weakness is defending in the air. Most of Arsenal's goals that they have conceded the past couple matches is when crosses come in towards Monreal. His inability to attack the ball in the air is hurting Arsenal.
The onus doesn't fall on Monreal though here, this is Wenger's fault as he knew Monreal's limitations through the middle of the field and yet continues to not play Chambers there. Playing Monreal on the right couldn't be the worst defensive experiment seen at Arsenal.
Left Back – Gibbs
Week after week I discuss how consistent and impressive Kieran Gibbs' performances have been. This season has been somewhat of resurgence for the young Englishman, something that he has been building on since the end of last season.
Defensive Mid – Arteta
Mikel Arteta comes back from what was described as a grade one-hamstring injury. Arsenal have looked calmer and reassured both defensively and on the ball when Arteta is in the heart of the midfield. While he does have his limitations in this position, he is still their best option.
Center Mid – Ramsey
Aaron Ramsey this week discussed how he knows he will return to his form of last season and that he hasn't felt 100% physically this season.
Not playing Ramsey wouldn't do him any service and he needs games to regain his confidence. He was Arsenal's best player last season and they need to trust him when he says he will improve. He has a history of proving his critics wrong.
Attacking Mid – Wilshere
Alexis Sanchez has played in this position the last month, although it was more of a forward role than attacking mid. Jack Wilshere was out injured during this time though and Wenger would like to see Wilshere in the starting 11 as much as possible.
I think that Wenger adjusts the lineup so that Wilshere fits in the starting 11. Of all the Gunners who understands and treats this game like a rivalry, he does so the most.
Right Wing – Oxlade-Chamberlain
The Ox scored a goal for England over the international break and his performances prior to the break were encouraging.
When Walcott is fully healthy it will be interesting to see who has the managers trust the most.
Left Wing – Alexis
Alexis will move back to the left wing possession, a position he has said to enjoy as it allows him to cut back inside on his right. Really though, Alexis' will play in a free role and his defensive duties will largely be on the left.
Striker – Welbeck
With Giroud back and healthy Danny Welbeck will face some competition upfront. This is a good thing for both players as it will spur them on to perform.
Welbeck will start this match though, as Giroud has yet to appear since breaking his leg against Everton.
Welbeck enjoyed a successful international break, scoring twice for England against Slovenia. He was taken off against Scotland for precautionary reasons after feeling stiffness in his hamstring,
The obvious story line in this match up is Welbeck's first appearance against his old boyhood club. Van Gaal deemed Welbeck to be surplus of requirements and Danny will be out on a mission to prove those comments wrong. Welbeck will be a player to watch this game.
(4-5-1)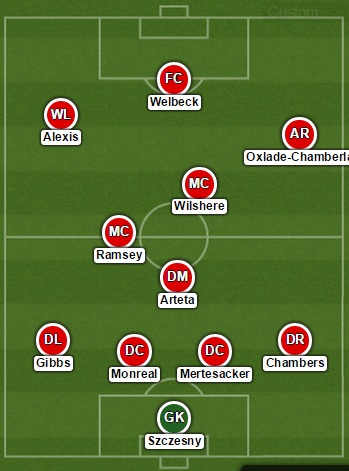 Via – Lineup Builder