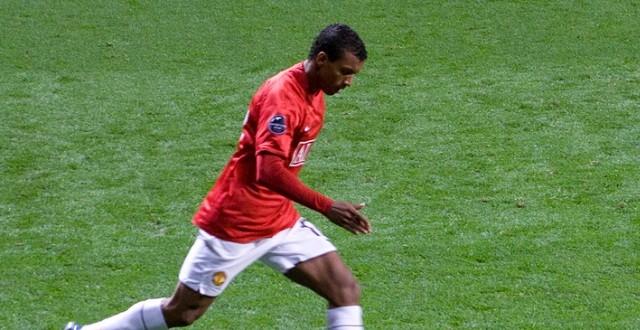 On the very same day that Manchester United's executive vice chairman almost ruled out any major moves during the next transfer window, the Portuguese media are claiming that Nani, who returned on loan to Sporting CP last Summer, is willing to pack his bags and move to Manchester once again already in January.
After Tuesday's match between Portugal and Argentina that took place at Old Trafford, the Portuguese winger revealed to the media that he still doesn't know if he will continue at Alvalade for the second part of the season but he refused to make any other statements on that particular topic.
Some Portuguese sports' media sources suggested last week that Nani and some of his team mates were threatened by Sporting's Chairman, Bruno de Carvalho, after the players allegedly expressed some discontent regarding unconventional comments made by the team's boss.
Such fact has reportedly upset Nani and judging from his tone of voice during yesterday's post match interview, he might in fact be on his way back to Manchester.
Sporting's board, on the other hand, immediately ruled out the possibility of Nani leaving already in January as they claimed, just a few hours ago, that there isn't any clause at the Portuguese winger's contract that mentions his return to the English club during the next transfer window
Sporting's chairman, who is known for his bad temper, has publicly criticized his players after their defeat at Guimarães three weeks ago but, only a few days later, Nani responded by saying that those who don't know how to lose also don't know how to win.
The atmosphere at the team's locker room is apparently far from being all sunshine and rainbows and such fact might explain Sporting's modest performances at the Portuguese league this season.
Regardless of all the fuss that has been highly fueled by the media, one is forced to admit that Nani seems to be back to his good old days and he has been a key element for Sporting so far this season.
Many have raised their eyebrows in doubt when the Cape Verde born footballer returned to the Lions earlier this season but soon they were forced to admit that his arrival was highly beneficial for the team.
Nani is truly a voice of command in a team with plenty of young talented players and, together with William Carvalho, Adrien Silva and João Mário, they probably constitute the best midfield line currently playing at Portuguese football.
Louis Van Gaal's lack of quality options for the wings might open the door for Nani's abrupt return to Old Trafford, although and given his past seasons' performances at Manchester, it is fair to wonder if he will ever be that flamboyant player United signed in 2007 for £20 million ($31.9 million).