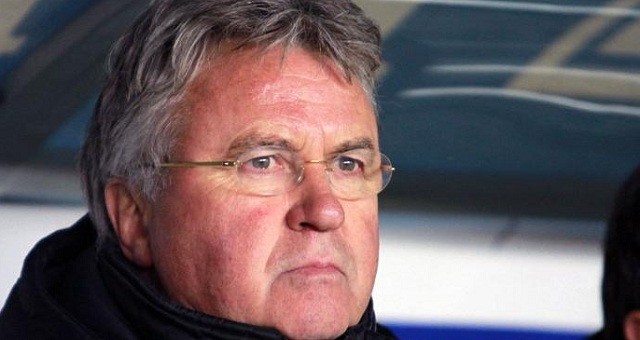 The Netherlands faces an all-important match versus Latvia Sunday at the Philips Stadion in Eindhoven. Having won only 1 of 3 in their qualifying group and 1 in 5 overall under new manager Gus Hiddink, the pressure is on Oranje to get results, or Hiddink will not have a job.
After losing to Iceland in their previous qualifying match, there were calls for Hiddink to be sacked and replaced by newly appointed Southampton manager Ronald Koeman. This is unlikely to happen considering Koeman just started on the job and his club is off to an incredible start to the season.
Another reason this is unlikely to happen is that the Dutch Football Association, or the KNVB, put together a succession plan in 2012. When Louis Van Gaal was hired that year, the KNVB set in motion a plan that would see Hiddink take over in 2014 after the World Cup, and Danny Blind, Daley Blind's father, takeover in 2016 after the European Championship. Blind was also hired to serve as both managers, assistant manager.
If the Netherlands were to move on from Hiddink, and Hiddink has said that this will happen if Oranje does not beat Latvia, then it seems that Danny Blind would take over early.
This is one implication that Sunday's game might have. The other is the fact that anything but a win would put Oranje in real danger of not qualifying for the European Championship. This is in spite of the fact that qualifying has been made easier now that 24 teams qualify instead of 16.
Having lost to both the Czech Republic and Iceland already, the Netherlands sit in third and really every game is a must win from now on.
There are many reasons why the Netherlands are playing the way they are. The fact that they overachieved at the World Cup doesn't help, nor does the lack of young talent and high expectations due to previous golden generations.
If you want to read further about these factors, check out an article that I wrote a couple weeks ago on this topic.
After watching their loss versus Mexico on Tuesday, there was a small reason for optimism. They attacked well and moved the ball around easily and efficiently. Klaas-Jan Huntelaar got in some good positions but could not finish the attacking movement time after time. They seemed to be more balanced in midfield as well, and Arjen Robben was showing sharpness again since being out injured previously, as was Wesley Sneijder.
They did, however, defend just as poorly as they have in previous matches. This is Hiddink's fault as there is absolutely no method or organization in the way they defend.
It is a fair argument to say that they lack quality defenders, however this would lead to individual mistakes. We are seeing some of these, but most of the goals conceded are due to poor defensive positioning and organization.
Ultimately this lies at the manager's feet, as it's his responsibility to create an organized structure to the way they defend. This is especially important as a national team manager as you only get to work with your teams in short intervals at training camps, therefore team cohesion and understanding is important to hone in on.
The bottom line is that Sunday's match against Latvia will have enormous implications on the direction that Oranje takes in the next two years. If they lose, Hiddink will resign, even if his statement was a "poker bluff" as Robin van Persie claimed. They will also sit in an uncomfortable position in their group, facing elimination.
The KNVB will ultimately be responsible for this though, as their decision to hire the next three managers for the next 6 years seems premature and has backed them into a corner.
If Hiddink leaves they have to hire Danny Blind, who is inexperienced and is not quite comparable to other potential candidates Ronald Koeman and Frank de Boer. But because of this succession plan that was put into place, the KNVB left themselves no room for maneuvering, and a move away from this plan would be a significant sign of failure on their behalf.
If Oranje loses Sunday, the KNVB loses, Gus Hiddink loses, Danny Blind loses, Ronald Koeman, loses, and the immediate future of this great footballing nation becomes a bit bleak.