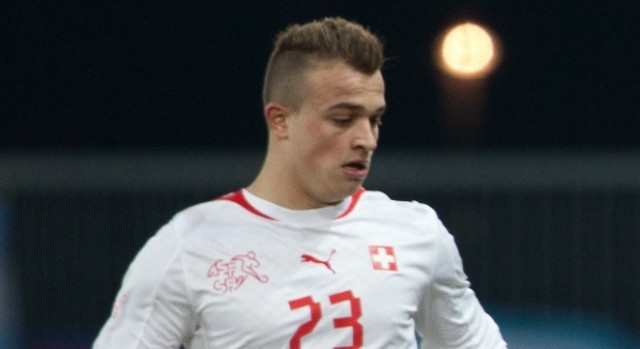 After speaking to a Swiss paper, Bayern Munich's Xherdan Shaqiri, revealed that he could have joined Liverpool this summer if the German team had not blocked the move. This is a stunning revelation for Brendan Rodgers and the Liverpool fans, since most of the transfers who came to Anfield have been rather unsuccessful. All statistics are from squawka.com.
The Swiss player is just waiting for an opportunity to showcase his immense talent, something he has been unable to do in Germany. He has only made three starts for Bayern this season, he is often the odd man out in the lineup since he is competing against other top players in Mario Gotze, Thomas Muller and Arjen Robben. Coming to Liverpool may be the perfect situation for both team and player.
There are more than a few reasons why Pep Guardiola refused to sell the midfielder. Shaqiri is a strong passer and crosser, his 2.29 key passes per 90 minutes would be the most if he was playing for Liverpool.
Even though he is on the smaller side, he is well built and has a low center of gravity; this allows him to retain the ball while being hounded by opponents. That coupled with his incredible dribbling skills makes him a player perfectly capable of leading a counter-attack or taking the entire opposing team on his own. When he plays for Switzerland, he is the first option in attack and it is a role that Shaqiri is not afraid of. That is a testament to his desire to win and faith in his own ability.
Another plus, he has shown that he will be able to fit in most of the formations that Rodgers has used this season. He best position is on the left wing of a 4-3-3 but he can also perform well in one of the attacking midfield spots in a 4-2-3-1 or even in the hole behind the strikers in a 4-3-1-2.
There are some questions that Rodgers needs to think about when considering to add Shaqiri. Liverpool's roster already features a couple of short players in Philippe Coutinho, Alberto Moreno and Joe Allen, as a result, the team struggles to defend corners and crosses. While he will not be defending often, he will be asked to defend players taller than him during corners.
Speaking of defending, he is one of those players who does not track back to help the defense. This is not ideal for Liverpool, a team that has already conceded 15 goals in the Premier League alone, this season.
Shaqiri also has a trigger happy foot, he shoots 2.86 times at only an accuracy of 33% per 90 minutes. While it is not a terrible issue, it could lead to some issues with teammates since Shaqiri could decide to shoot instead of continuing a passing sequence.
The transfer is unlikely to happen during the winter which means that Liverpool would have to wait for reinforcements to come. However, if he does arrive, Shaqiri will be a great addition to the Liverpool squad and he could elevate the team to new heights with his skills.