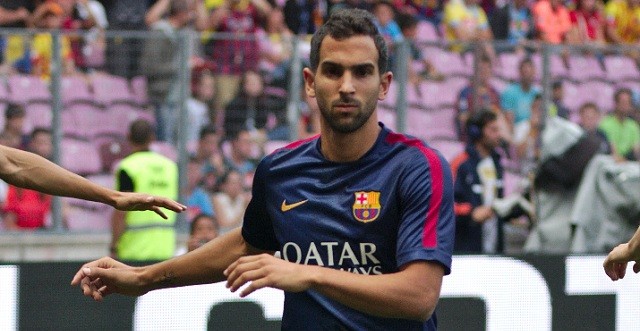 FC Barcelona Defender Martín Montoya is weighing trade options for January, after being told by Manager Luis Enrique that he is now surplus for the Catalans.
The 23-year-old has 4 years left on his contract, which was extended earlier this year. Unfortunately, he has only played once so far this season, behind regular starter, Brazilian Dani Alves.
Montoya rose from the youth program at Barcelona and performed well when he was given a chance. Since playing on the first team, he has had 56 appearances on the pitch, 19 of them during last season.
He proved his worth after subbing for Alves last season that resulted in his extension, but since then he has sat frustrated on the sidelines.
Now according to rumours, Liverpool and Arsenal are both interested in the Spanish defender who could be allowed an exit from Barça for half the price.
However, the Premier League teams could also be joined by Serie A's Inter Milan in the race. Montoya has since hinted he would be most interested in a Premier League move.
The Metro reports a Liverpool signing could help Manager Brendan Rodgers replace Glen Johnson whose contract is up at the end of the season.
While the Express stated Arsenal's need to search for a right-back. Either way Montoya has expressed his eagerness for better opportunities in the near future.