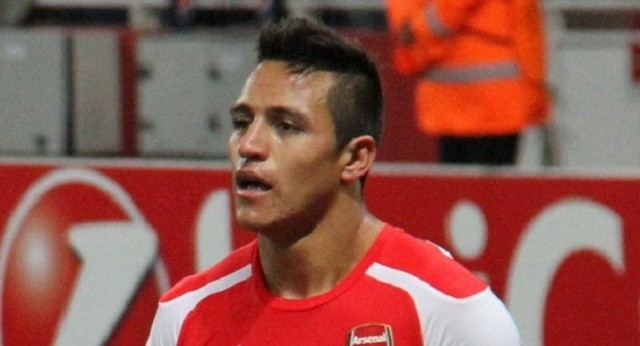 No one can deny that Alexis Sanchez has been proving his 35 million pound transfer fee was money well spent. Even Tottenham supporters can't ignore Sanchez's 11 goals and 3 assists in his 16 appearances for the Gunners in all competitions this season. His ability to pick apart opposing back-lines and pure skill with the ball at his feet are a marvel for any soccer fan to witness.
Thus far, it is fair to say Sanchez has been Arsenal's most valuable player and shows no signs of slowing down. He has scored 7 goals in the Gunner's last 6 matches, and they have only lost once during this stretch. Their last loss coming in the recent match with Swansea City, in which Sanchez happened to be the sole scorer for the Gunner's .
Clearly the numbers support Alexis's importance on the stat sheet to Arsenal's success this season. One thing that can not be seen on the stat sheet is how important Sanchez's energy and field presence is to the Gunner's success.
Coming in to the season, everyone was wondering how Sanchez would integrate into Arsenal's line-up and style of play. His skill was already apparent, but there was no way to be positive that these skills would be able to shine at a new club. Sanchez has dispelled any apprehension fans may have had.
The immediate cohesion Sanchez has displayed with his teammates on the pitch is impressive to say the least, and has been applauded by Gooners all season. He has an uncanny ability to read not only the opposing defense, but his own teammates and react with swift execution. This has been key to Sanchez breaking down back-lines and giving himself opportunities on net.
Sanchez's cohesion with teammates has also been coupled with his astounding field presence. It doesn't take a seasoned manager to see how Sanchez is a constant source of energy for the Gunners and is able to make his teammates around him better.
The presence Sanchez has on the pitch brings confidence and vigor to the team, allowing players, such as Danny Welbeck, to be at top form alongside him.
This was perfectly displayed in the Gunner's match against Hull City with Sanchez scoring Arsenal's first goal, and later assisting Welbeck in stoppage time to salvage a tie.
One can easily look at Alexis Sanchez's numbers this year to see he has been producing for the Gunners thus far, but the most important skill set Sanchez has brought to this Arsenal squad are his intangibles.
The presence Sanchez consistently brings to pitch has been paramount to Arsenal's successes this season and shows a clear path to what the Gunners must do to defeat teams such as Chelsea, Southampton, and Man City that currently stand in their way of the Premier League title.
Arsene Wenger and Arsenal will surely be focused on their upcoming match-up against Manchester United , especially with only a single point separating the teams.
Sanchez is exactly the leader the Gunners have been looking for and will continue to impress with not only his ability to put balls in the back of the net, but his ability to instill confidence into a strong Arsenal squad.