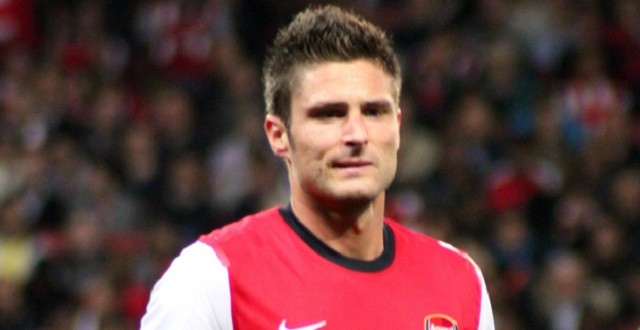 Arsenal has released pictures of Olivier Giroud back in full training. The news of the Frenchman's return from injury is a welcome surprise to Gooners. It was previously assumed Giroud would be out until at least of December.
Arsene Wenger did mention, in his previous press conference, that Giroud was ahead of schedule; Gooners have taken any positive injury news with a grain of salt though.
Arsenal's injury list is slowly decreasing, with the recent returns of Yaya Sanogo, Theo Walcott, and Serge Gnabry, joining Giroud. Unfortunately none of these players are defenders, an area where Arsenal are certainly lacking in.
Giroud injured himself in what seemed like an innocuous football action. He went to block a clearance by the corner flag versus Everton. The ball clipped his foot, bending his ankle, which resulted in a broken tibia (start at 1:30. I apologize for the annoying music).
Arsenal has missed Giroud's ability to play with his back to the ball, his link up play, and his aerial presence. Danny Welbeck has done well and certainly will continue to contribute, but he brings power and pace, not the hold-up and link-up play that Giroud offers.
Against a team like Swansea last Sunday, Giroud would have been an excellent player to bring off the bench to play next to Welbeck. Giroud has a superb goal scoring record against non-top four clubs and contributes well off the bench. Instead, Wenger brought on Sanogo, outlining how far back Lukas Podolski is in the pecking order.
Another reason that this is positive news, is the fact that Giroud came back early from injury. When has that ever happened to an Arsenal player? Setbacks are what Gooners are used to, thoughts of Aaron Ramsey last season come to mind. Could Giroud's early return signal a change in Arsenal's injury fortune and prove that the hiring of Shad Forsythe is starting to pay off?
Tactically speaking, it's not exactly clear what could change for Arsenal. Its hard to imagine Giroud getting significantly more games than Welbeck, a rotation is most likely.
It's also unclear if this means Arsenal will revert to a more traditional 4-4-2, with Welbeck and Giroud up top and Alexis Sanchez wide left. This would further muddle the central midfield pairing, and would also create questions as to where Mesut Özil fits in the starting 11.
Giroud and Welbeck could be an intriguing pairing though. Their individual qualities and high teamwork and energy definitely complement each other. Welbeck could make more run ins behind, using his speed, while Giroud could provide his trademark "flick-on's" to Welbeck and on coming midfielders. Giroud would take on the hold up responsibility allowing Welbeck to focus on his strengths.
This scenario is unlikely to happen for a couple weeks, as Giroud still needs time to gain match fitness. He won't start next weekend against Manchester United, however he very likely will come on off the bench, where he could possibly play up top with Welbeck for a short period of time.
Many Gooners have been quick to criticize Giroud's performances against top quality sides, as well as claim a perception that he is error prone, it is clear that Arsenal have missed him. He was Arsenal's top goal scorer last season after all. Hopefully in his absence Gooners have come to realize how integral Giroud is to the way Arsenal play.
Arsenal has seemed to lack ideas and creativity when getting near the opposition's goal. Giroud will provide an option and create chances outside the box. He will also provide a target in the box for players such as Alex Oxlade-Chamberlain. Alexis, however, could benefit from this the most.
Both players' drive for the team is comparable; this relieves some pressure off of Sanchez and at the very least gives him a partner in this area of the pitch. Their link up play is what could benefit Alexis the most though. Giroud will look to pick out Alexis' darting runs in the box and the Chilean well look to find the Frenchman in the box.
Ramsey is another player who should benefit from Giroud's return. Ramsey too likes to make darting runs into the box, and he has been doing so this season without much service or success. Currently Ramsey seems lost on the pitch; perhaps Giroud could be a catalyst and an avenue for Ramsey to rediscover his form that saw him play so freely and effortlessly.
I realize this is making Giroud sound like he is Özil, but if you remember the goal that Arsenal scored against Norwich last season, you will understand how important Giroud is to the team. His return is a welcome one as Arsenal have missed him dearly.