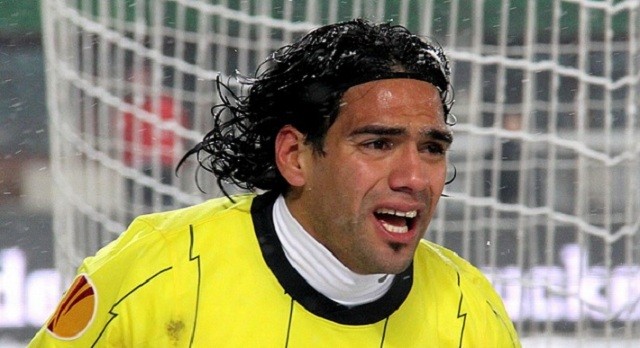 The arrival of Radamel Falcao on transfer deadline day shocked and awed in equal measure, but at the end of the day – no one could deny the fact that Manchester United had pulled off a major coup by securing the services of the Colombian superstar on a season long loan deal for a meagre £6million.
Unsurprisingly, Manchester United fans were really excited at the prospect of witnessing Falcao in action and many felt that the 28-year old would be the man to spearhead the Red Devils' return to the pinnacle of English football.
Falcao arrived at United amid much fanfare
However, Falcao has not come close to making the impact everybody was expecting as the injury problems that plagued him last season seems to be resurfacing once again. The striker has managed to make only 5 appearances for the Red Devils so far and has not featured for over a month now.
Recently it had emerged that Falcao's condition is so bad that the striker needs to put ice on his knee after every match and training session, while to cast a further doubt to his long term future at Old Trafford – Manchester United manager Louis van Gaal had claimed that even when the Colombian star makes a return from injury, he will not be guaranteed a place in the starting lineup.
Falcao has struggled to make an impact United
As a result, it had been claimed that United will not be paying the reported £48million to make his transfer permanent next season in order to focus on transfer targets elsewhere.
Amid emergence of such reports, the usually calm Falcao has snapped back at rumors regarding his knee requiring icing constantly and has stated that 'fools' have come up with such speculation.
Using social media, Falcao stated,
One fool speculates. A few others lacking objectivity respond and millions believe lies. It is disastrous what a few fools can do.

— Radamel Falcao (@FALCAO) November 10, 2014
While the rumors surrounding Falcao may well not be true, the striker will now have to put his injury woes behind him as soon as possible and hope to show his class on the pitch.