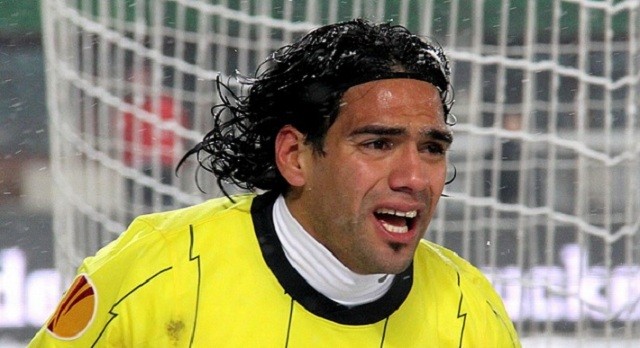 The Colombian sharpshooter Radamel Falcao left everyone stranded when he decided to join Manchester United on the very last day of the past Summer transfer window.
El Tigre arrived at Old Trafford on a £16 million ($25.3 million) season long loan but United will have the option of signing with him on a permanent deal for £43.5 million ($71.8 million) at the end of the season.
Although this shocking deal caught everyone by surprise, supporters and even pundits expected him to continue his usual impressive goal tally with the Red Devils. However, after eleven English Premier League matches, the Colombian goal scoring machine has only netted in one lonely goal so far – when United overcame Everton at Old Trafford earlier last month.
Radamel Falcao is probably going through one of the worst moments of his professional career since he does not seem to be able to overcome the complicated knee injury that ruled him out of the Brazilian World Cup last Summer.
According to recent media reports, El Tigre has been forced to ice his left knee after every single match he has taken part in order to alleviate the pressure from what still appears to be a fairly fragile knee.
Despite all of his injury problems and the eventual tricksy relationship with the former AS Monaco's head coach, Claudio Ranieri, the Radamel Falcao who played for the Monegasque team last season was nothing but a mere shadow of the one who displayed moments of pure geniality first for FC Porto and later for Atlético Madrid.
El Tigre arrived at the former Portuguese champions to mitigate the departure of the versatile Argentinean forward Lisandro López and, in truth, no one expected that the man who had only netted in approximately 30 goals during the eight years he played for River Plate would become the team's most important player so quickly.
Alongside with Hulk, they devastated the opponents' defence lines and by the hand of the former Chelsea and Spurs' boss, André Villas-Boas, they lifted the UEFA Europa League trophy back in 2010-2011.
Although he continued to score goals while at AS Monaco, that hard working and goal thirsty Radamel Falcao was gone.
Pundits speculated on the reasons why he joined the former French millionaires coming in from a fairly more competitive league and from a team (Atlético Madrid) that eventually won the Spanish league after his departure. The reason for such venue change might have only been purely financial, as he agreed with the French Principate's club an annual salary of €18.2 million ($22.6 million).
Having in mind the complicated last year of his already remarkable career, one is almost forced to question if Manchester United should spend a ridiculous amount of money and sign him on a permanent deal at the end of the season.
The answer for such query is not easy to answer and only Louis Van Gaal could be the judge of that, although, it is fair to wonder if this once frantic goal scorer will ever return to his golden years and if, at the age of 29 (to be completed next February), he is still worth £43.5 million ($71.8 million).