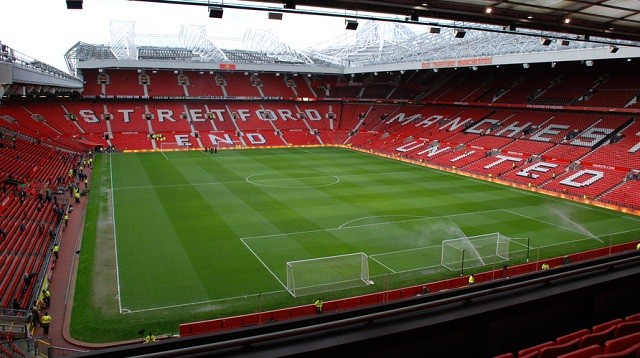 After a pair of hotly contested fixtures against title contenders Chelsea and Manchester City, Manchester United fans must have been relieved to see Crystal Palace at home on the docket.
After 90 minutes, however, those same fans were probably just relieved to get 3 points. Here are 4 points from a rather forgettable affair where United's pedestrian attack nearly saw the Mancunians drop points to an inferior side:
1. Juan Mata grabs the headlines
Remember last month when Wayne Rooney got suspended, leading the sensationalist English media to claim Juan Mata only had 3 matches to save his Manchester United career? That notion was finally put to bed on Saturday.
Juan Mata might have disappointed during that aforementioned 3 game stretch, but he played Johnny on the spot moments after replacing Adnan Januzaj (who was abysmal), collecting a short pass outside of the box after interchanges with Fellaini and Di Maria before smashing it past Julian Speroni. Speroni should have saved it, but the keeper's gaffe is a testament to why you should always put your shots on frame.
Minutes later, Juan Mata was inches away from a brace and sealing the result after his left-footed volley fizzled against the post.
Mata's introduction instantly added more verve and inspiration to United's dogged attack. He brought creativity and that velvety, golden touch of his to midfield, where he actually sped up the tempo of United's attack (despite recent criticism to the contrary) and produced several moments of real quality.
For Mata, the glittering performance will come as redemption after a frustrating spell on the sidelines – he certainly celebrated his goal in front of the supporters with extra vigor. Hopefully this will kick start Juan's season.
2. Service, please
It's easy to point the finger at your team's star striker if they aren't producing the goods on offense.
Robin van Persie might not be exhibiting the otherworldly form that carried Manchester United to its 20th league title and his 3 goals in 10 appearances this term aren't good enough for a player of his caliber, but he's hardly the problem up front.
Gary Neville labeled Van Persie "a burglar" for the way he lives off the back shoulders of his markers, sneaking in behind them to collect through balls and steal goals. There isn't a truer (or more colorful) description of the Dutchman out there: Van Persie gets into dangerous scoring positions due to his darting runs, meaning his game is largely dependent on the service he receives.
Aside from the occasional whipped-in cross from Di Maria, Van Persie isn't seeing much service. Gary Neville chastised Daley Blind for being too lateral with his passing last week, and he might have a point: Van Persie rarely gets any through balls to run onto from his midfielders. He only really received one ball into space during the match – a late 2nd half pass from Wayne Rooney – and while he was closed down before he could get his shot away, the deflection ultimately led to a good scoring opportunity for Mata.
Fellaini and Rooney aren't the Scholes and Carrick of yesteryear, which is probably why Van Persie didn't run rampant against Crystal Palace. Louis van Gaal also conceded that neither Fellaini nor Rooney managed to follow his pre-match instructions.
"I said at half-time to Rooney and Fellaini that you have to play higher [up the field] in the supporting of Van Persie," Van Gaal told reporters. "That was not our gameplan – they were doing that and I had to correct them at half-time. Then they were playing higher [after the break]."
While United continues to dominate the possession statistics (they controlled an absurd 71% of the possession), their attack hasn't been generating nearly as many prime scoring chances as it should be (United only had 5 shots on target). Carrick's underrated yet highly effective forward passing needs to be better utilized in Van Gaal's system, while Herrera and Mata could see recalls if United's attack continues to stall.Van Persie needs to be better, but there is only so much he can do without proper support.
3. Well, that was curious…
Minus the breakdown in communication that nearly saw Frazier Campbell put Crystal Palace in front in the 1st half, Paddy McNair and Daley Blind were both solid in defense. Neither defender really had much to do as Crystal Palace provided little impetus on the counter, but both Blind and McNair exuded class with their ball circulation and dribbling out of the back.
Therefore, it was a bit odd when Michael Carrick and Daley Blind swapped roles in the middle of the 2nd half. Carrick, who has served as an emergency center half on many occasions (including last match against Manchester City after Smalling got sent off), may have been lacking the fitness required to carry out the rest of the match in midfield…or, at least, that's the only plausible explanation I could come up with.
It was also a curious decision when Louis van Gaal decided to pull Paddy McNair in favor of vice-captain Darren Fletcher in stoppage time. According to Van Gaal, McNair was struggling with a touch of the cramp in the game's dying stages.
You would think that athletes at this level would have learned by now how to hydrate before a game, but that doesn't seem to be the case as the cramp epidemic continues to wreak havoc across soccer and all of professional sports for that matter.
4. The Drifter
Angel di Maria was invisible for long stretches against Crystal Palace. The Argentine popped up on several occasions to whip in some delicious balls per usual and got an assist on Mata's goal, but against a bottom half side with a leaky defense like Palace, he should have had a field day.
Di Maria hasn't really looked as effective (or comfortable for that matter) since Van Gaal decided to switch from the looser, more dynamic 4-3-3 to a sturdier, more stagnant 4-5-1. In the 4-5-1, Di Maria has been pushed wide left where he has found it harder to stretch the field with his lung-busting runs on the ball.
If Van Gaal wants to make most of Di Maria's talents in this team and unleash the Red Devils' counterattack, the Dutch manager needs to give him free license to roam and find a way to position him more centrally.
With an overabundance of central attacking players at Old Trafford, that it is probably easier said than done.
Man of the Match: Juan Mata
In a match perpetually stuck in 2nd gear, Mata's brilliant half hour cameo was the creative spark that turned the tide in United's favor. Scored the winner and was unlucky not to snatch a second.
Honorable Mention: Luke Shaw
Those hasty early conclusions look more foolhardy by the game. Produced a number of his trademark galloping runs and was unlucky not to score from his best one in the 1st half. For me, he projects as the next Leighton Baines with better dribbling albeit a less impressive range of passing.
Flop of the Match: Wayne Rooney
Plenty of candidates, but the captain's clunker at the heart of midfield stuck out. The work he put in defensively was great, but his dallying slowed the tempo of United's attack and he provided little innovation.
Dishonorable Mention: Adnan Januzaj
It's good to see he's been taking more initiative with the ball lately but was rightly yanked in favor of Mata early in the second half. Still getting caught in possession too easily and lacking any quality with his final ball.