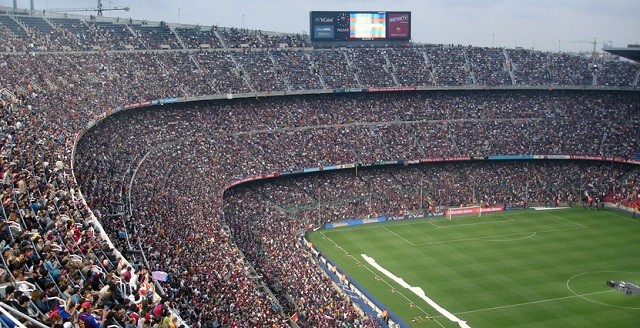 FC Barcelona's 2-1 win against Almeria Saturday should have been easy. Instead, a disjointed Barça played exposed. It was only after subs in the second half that brought Luis Suarez onto the pitch did he rally the squad to win. The Uruguayan provided both assists for the goals from Neymar and Jordi Alba.
After an impeccable start to the season, the squad was heading into halftime down 0-1 Saturday, facing a possible third La Liga loss in a row…something that Barça fans have not seen in a decade. It is fair to say, it's time for Barça Manager Luis Enrique to implore different tactics.
Enrique had chosen to shuffle the starting line-up, resting Neymar and Suarez, with Munir and Pedro in their place. Unfortunately, both simply could not connect, while the midfield and defense lacked construction as Almeria dominated possession.
Marc Bartra proved to be the best defender of the day, even if he was unable to match the speed of Thievy, who scored his first goal of the season for Almeria. Their defensive tactics also proved difficult for Messi who missed several attempts on goal.
"The game was complicated, but the substitutes, not the performance, won us the game. Sometimes this can happen, but it mustn't paper over what we did wrong," Enrique admitted in a post-match press conference.
An SBNation editorial blames Enrique as well. True, a squad of this caliber should not be struggling as much as they are. Problems continue to plague the back line; defenders are simply making it too easy for the opposition to find their way through. Meanwhile, with Iniesta out on injury, the midfield will do well regrouping during the break next week.
Naturally, the main focus has been on the return of Suarez. Suarez has been available now for two weeks, but Enrique tactics since his return have yet to work out.
Speaking to reporters prior to their Champions League match with Ajax Wednesday, Suarez explained how he's fitting in with Barça, "It's a different philosophy, different tactics. I understand all of that. Tactically I didn't feel so great in the first game but I felt a lot better in the second game against Celta."
So far Enrique has had him playing on the right, but Liverpool fans will remember just how dangerous he was playing from the middle. Question now is if Enrique will chose to move Messi over or push him back to see how Suarez could work attacking from the middle?
Suarez has chosen to remain neutral, "Well I like scoring. Some people saw my goals last year and they saw where I scored from but really, I played a lot of games from the middle and a lot from the right. I can play any position."
Barça had plenty of attempts on goal in the second half yesterday. Having been a mere couple of weeks with Suarez, it is only a matter of time before the damn is cracked and the goals start to come. For now, the squad can enjoy the 3 points heading into the international break.