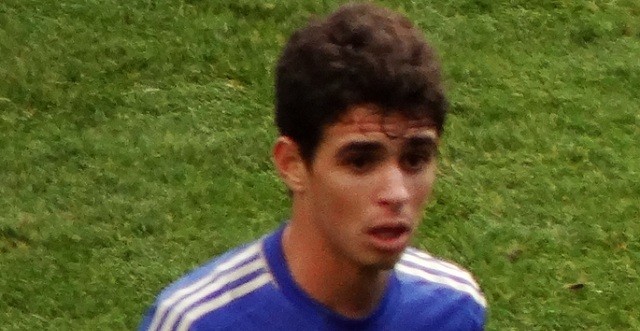 Chelsea announced today that they have signed Brazilian midfield Oscar to a new 5-year deal, keeping him at the club until 2019.
The 23-year-old, who joined Chelsea in 2012 from Brazilian side Internacional, is delighted with the new deal.
"I am so happy because I love playing for Chelsea and living in England," Oscar told Chelsea's official website. "I have enjoyed playing here for two years, and now I have five more, so I am very happy."
Oscar also took to his Instagram account to post an affectionate message displaying his devotion to the London club, with a statement that read, "Until 2019 my heart will keep on pumping BLUE blood! #ComeOnChelsea #ComeOnBlues."
The Brazilian is enjoying what is arguably his best stretch of games at Chelsea, with four goals in 15 appearances to start the new campaign. This brings his total to 27 in 126 appearances for The Blues.
Chelsea manager, Jose Mourinho, was quick to praise his 'evolution' into a more complete midfielder following a performance in which he scored a brilliant free kick against Crystal Palace in October.
"Oscar, in this moment, is not a number 10. He had an evolution, a mental, tactical evolution that allows him to be a fantastic player," Mourinho said. "Can he physically improve? Of course. People forget that he is still so young."
Oscar looks a different player to last year. His energy levels have improved and he seems determined to prove those critics who have questioned his durability in the past.
The star midfielder joins a core group of Chelsea players between the ages of 19-27 who are signed through at least the 2017 season. This list of players that includes summer signings Cesc Fabregas, Diego Costa and Loic Remy, also consists of Nemanja Matic, Willian, Ramires, Andre Schurrle, Cesar Azpilicueta and Kurt Zouma.
Eden Hazard, who is also currently signed until June 2017, is next on Chelsea's list for a contract extension. The new contract is rumored to include a raise that would make him the highest paid player in Chelsea's history.
With Mourinho insisting he is with Chelsea for the foreseeable future and the addition of Oscar and potentially Hazard to the long term core, this team will be among the best in Europe for many years to come.