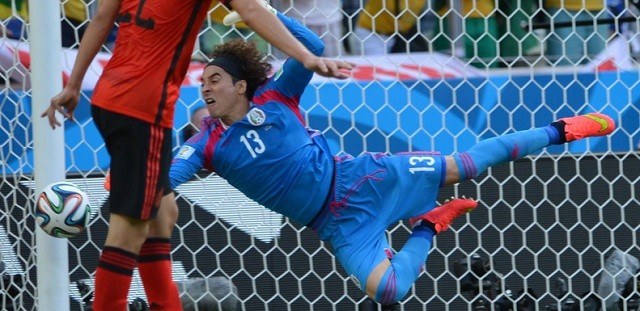 After failing to bring in former Barcelona 'keeper Victor Valdes, it is rumored that Brendan Rodgers and his transfer committee have looked to add Guillermo Ochoa instead.
The Mexico international will cost £5 million ($7.9 million), a reasonable amount for someone who has not made even a single appearance for Malaga this season. As a result, he will likely make the most of the opportunity to beat out current Liverpool backup Brad Jones and possibly even Simon Mignolet.    
Although Mignolet is the undisputed starter for now, he has struggled to keep a clean sheet even against teams who don't usually score many goals.
The Belgian has struggled to communicate with his defenders and this has led to too many foolish mistakes while defending. While he has excellent reflexes, as shown during the recent Champions League match against Real Madrid, and can distribute the ball reasonably well, he cannot use these skills if opponents are allowed to have clean looks against him.
The one area that he, and the Liverpool backline as a whole, have struggled in is in defending corners. Too often, the ball is not cleared well and the opponent is able to regain possession of the ball while the defense is not set. There are also times where Mignolet looks to tentative, he does not go after balls that come near him, allowing opponents to head the ball well towards the goal.
Back to Ochoa, as evidenced by his excellent performance against Brazil in the World Cup, he is capable of keeping the ball out of the goal practically on his own.
Even though he is slightly smaller than Mignolet, Ochoa looks like he is much bigger than he actually is, which is a testament to both his physical presence and his ability to cover the goal completely.
Just like any keeper, however, he can be prone to some terrible errors. There are times where he is too aggressive, going for a ball when it is too far from him or looking as if he got planted to the pitch, unable to get off his feet to properly dive for a ball.
Overall, I believe that this will be a smart purchase for Rodgers and the Liverpool management. Ochoa is a great backup goalkeeper and he will put pressure on Mignolet to perform better.