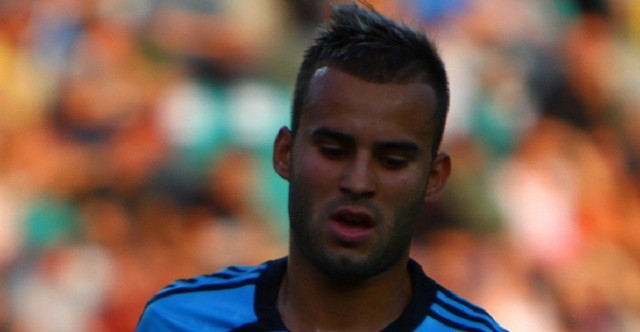 On their last training session prior to the Rayo Vallecano game, Real received some great news. Youngster and La Fábrica product Jesé Rodríguez is back after eight months.
Following an excellent start of the season in the 2013-14 term, he suffered an ACL injury while playing Schalke 04. He had garnered eight goals until that day, and his rise to stardom came to an abrupt stop.
Jesé had some setbacks in his recovery process, with his wound becoming infected. However, after a long and tedious road, his hard work finally paid off.
This couldn't come at a better time, since the season will only get tougher from now on. It's going to take a while before we see that great player, yet he should be ready for the crucial January-May period.
Gareth Bale recently returned and will play tomorrow against Rayo. Although he needs to go back to his old form, his mere presence is a plus for the team. On top of that, Isco and James' current shape make Real's attack very diverse. Jesé can play in a variety of positions, giving Ancelotti an option to rotate the 'BBC' more frequently. His return could be the best "signing" possible.
On the other hand, another resurgence will bring more depth to Carlo's squad. Left back Fábio Coentrão trained with his teammates today.
He's been away for a couple of months, with no clear explanation from the medical and technical staff. He wasn't called up for the Madrid or Portugal games, allowing him a good two weeks to recuperate.
Marcelo's form has been at an all-time high recently, making Coentrão's absence less important. Nevertheless, Ancelotti has tested Carvajal, Arbeloa and Nacho in that position.
None of them are natural left backs, so the Portuguese's comeback can provide the opportunity to alternate him and Marcelo. It looks like Real can breathe with these fortunate events, but they should pray that the FIFA Virus doesn't damage this good moment.