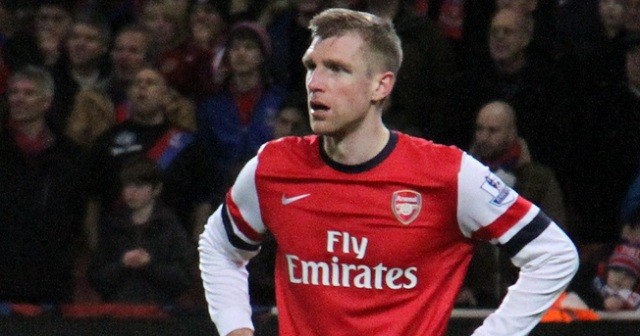 Tuesday night's collapse versus Anderlecht has left Arsenal players with much to think about. After starting well, controlling all phases of the match, and scoring 3 well taken goals; Arsenal inexplicably collapsed.
Anthony Vanden Borre scored twice, first from an offside position, and then from the spot. Aleksander Mitrovic was then able to get his header on goal by slicing in front of Per Mertesacker in the 90th minute.
Arsene Wenger expressed his frustration, calling out his players for their poor defensive performance on the night. He continued, by warning his team that such complacency will not be tolerated and their performances must improve.
Mertesacker, the club's vice-captain, echoed those sentiments and called out his teammates for not defending well as a team.
The German star said, "We need to be more aware of that, to defend better as a team. When we drop sometimes everyone has to be involved to defend. You cannot afford for just five or six players to defend, or just the back four."
The BFG went out of his way to assure Gooners that Arsenal's performances will improve, and that they will learn from this game.
He continued, "We will bounce back quickly, we are really good at that. We have shown that a couple of times. That was a good warning [on Wednesday] that everyone should raise their game and give maybe 10 per cent more when it's really needed."
While it is nice to hear that the players accept the blame and realize their faults, acting upon their words is a different story.
For phases of the match, they defended well against Anderlecht.
When Arsenal was at their best defensively, they had eight men behind the ball and were organized in two lines based on defense and midfield. Alexis would come back and assist in the middle which in turn allowed Arsenal to break fast either through the Chilean or the excellent Alex Oxlade-Chamberlain.
Once Mikel Arteta injured himself though, Arsenal's structure and organization fell apart. Mathieu Flamini came on for the injured Spaniard, but could not sustain the balance.
Flamini seems to play better when Arteta is in the holding midfield role and the Frenchman in the box-to-box role. Flamini's high energy and aggressive style suits this role better and doesn't damage the team's defensive organization.
Tomas Rosicky and Lukas Podolski came on, but neither restored balance. Rosicky did not look sharp at all, and Podolski is notorious for neglecting his defensive duties.
At this point the Arsenal players seemingly did not prioritize defending. There were constantly 5 or 6 players back defending, and the other 4 or 5 were strolling back, making a half-hearted attempt to fulfill their defensive duties. They lacked urgency and concentration to finish the game and were duly punished.
Anderlecht should be commended for the manner in which they crawled back into the game. At three-nil down it's very easy to drop your head, especially a young side like Anderlecht. They have number of young players who have a bright future ahead of them, especially 17 year-old Youri Tielemans.
Hopefully what Mertesacker and Wenger had to say is driven into each and every one of the player's minds for the rest of the season.
Up next is a tricky away match against Swansea City on Sunday, where Arsenal must respond with a defensively organized display.