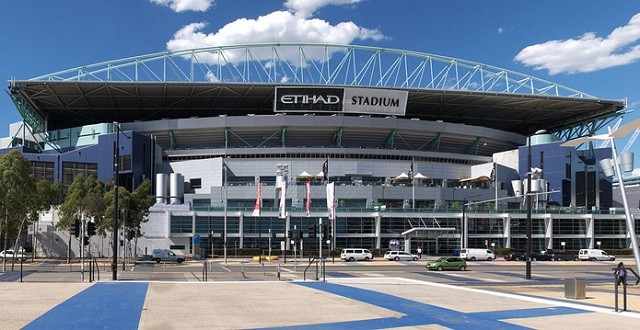 Losing to Manchester City is never easy, even if United's performance against the Sky Blues was a drastic improvement over last season's hideous display.  Here are five thoughts in the wake of the 1-0 defeat:
The Wayne Rooney experiment needs to end
Wayne Rooney sure had a lot of rust to shake off in that first half, and with the way he seemed to gift the ball to his compatriots in Sky blue, you might have wished he was still suspended.
He was deployed alongside Daley Blind and Marouane Fellaini in midfield in order to accommodate Robin van Persie up top and Di Maria and Januzaj out on the wings, but produced an utterly shambolic performance in a fixture that he has traditionally reserved some of his finest performances for.
If you need statistical data as evidence of his calamitous outing, consider his 20% aerial duel win percentage and his appalling 75% passing completion percentage (per Squawka).
The lone bright spot was a dazzling run that seemed to epitomize the agony and ecstasy of watching Rooney in a United shirt for the past three years.  Rooney collected his sloppy touch (which actually teetered on the verge of brilliance as he left two City players in his wake), evaded a sliding challenge, and nutmegged Vincent Kompany on his way to what should have been a glorious scoring opportunity.
Instead of shooting, however, the Englishman muddled things up as soon as he saw the whites of Joe Hart's eyes, cutting the ball back to his right at the edge of the 18 before crashing into Martin Demichelis.
He's admittedly lost a step or two in the past few years, but the fascination with playing Rooney in a deeper midfield role, an idea that dates back to Sir Alex Ferguson's tenure, is puzzling.
A more pressing matter than his pace has been the diminishing quality of his first touch.  Casual observation of Rooney in midfield (or anytime he drops deep to collect the ball really) reveals that his big touch often gets him into trouble right away, meaning he is more prone to being dispossessed or passing the ball while under pressure, which might explain why his passing percentage is so low.
Additionally, Rooney tends to dally on the ball too much (which slows the pace of United's attack) and attempts far too many cross-field Hollywood balls that instantly put his teammates under pressure.
Wayne Rooney is at his best when he is selfish and has no time to think.  His pace and touch might not be what they were when Wayne was at the top of his game in 2010, but he is unstoppable when his instincts take over and he needs to play further up the pitch, whether that means he lines up as a striker or as a wide midfielder.
Chris Smalling started at centerback…what did you expect?
Remember the days of Rio Ferdinand and Nemanja Vidic at the heart of defense?  Vidic might be struggling to find his feet in the more docile Serie A and Rio might be struggling to get a game at QPR, but would it really be a stretch to say their creaking partnership would be sturdier than rotating Chris Smalling, Phil Jones, and Jonny Evans alongside Marcos Rojo?
Chris Smalling was the chosen one by default this week with injuries to Phil Jones and Jonny Evans (although on Evans's current form, he might not be good enough to line up for Macclesfield Town let alone United), but only lasted 39 minutes in a spell that can only be described as idiotic.
Impeding Joe Hart's punt was ill-advised, but lunging in on James Milner was reckless and completely irresponsible.  Louis van Gaal was correct in deeming Smalling's second yellow "stupid," as it ultimately cost United any chance of winning the match and will now keep Smalling out of the side for another week, which is especially problematic considering Marcos Rojo has a dislocated shoulder.
Between underperforming and spending too much time on the treatment table; Jones, Smalling, and Evans could see themselves out of the club by next year if this keeps up.
Luke Shaw's Ascendance – still a long way to go
Luke Shaw might be hailed as United's left back for at least the next decade, but it's easy to forget he's only 19. He was always likely to have some hiccups at the start of his United career, such as his various fitness issues and his dismal outing against Everton where he conceded a penalty, but he is finding his feet and had a nice outing in his first Manchester derby.
He defended responsibly, got up the field to support United's attack, and looked relatively comfortable in possession.  NBC Sports commentators Arlo White and Graeme Le Saux were both eager to heap praise on the young Englishman during the telecast.
I fully expect Shaw to recognize his potential and become the best left back in England within the next few years, but that doesn't mean that the Southampton youth product can rest on his laurels.  For example, his positioning can use a lot of work as he was needlessly caught up field on several occasions against City, leaving a gaping hole on the left side of defense.
Additionally, it would be great to see more of his marauding runs down the left side as there are few outside backs in the EPL as effective with the ball as Shaw when he is in full flight.
United has some semblance of a midfield, and their actually pretty decent
Marouane Fellaini's revival continued with another solid outing in the Manchester Derby, which marks the third straight game that the Belgian international has featured in.
He probably should have scored his second United goal from Di Maria's fantastic set piece late in the second half, but looks to be solidifying his place in the starting XI with his commanding aerial presence.
Daley Blind also performed decently, although he did receive a bit of criticism from Red Devils legend Gary Neville for taking "…the easy option" far too many times and failing to attempt more incisive passes to Van Persie.
Neville's criticism is perhaps a bit harsh on the Dutchman, but there are definitely times when United's possession-based attack lacks penetration and purpose, and some of that has to fall on Blind.  Blind is the fulcrum of the attack, meaning he sets the tempo, and he often has more time to pick out options because he generally receives the ball deeper in midfield.
Ander Herrera may not be the preferred option right now due to the clanger he dropped against West Brom, but he is fit again along with Michael Carrick.  With Di Maria, Mata, and Januzaj all in the picture as well, it suddenly appears that United has more quality midfield options at its disposal than it has had in years, even if United desperately lacks another pacey winger who can stretch the field.
United are mid-table but don't panic
After Sunday's loss against Manchester City, United sits 10th in the EPL table with 13 points.  It's not exactly easy to look at but just remember it's only November.
Louis van Gaal is notorious for getting off to slow starts – he was, after all, in this same position in his first season at Bayern Munich before going on to win the Bundesliga.
I'm not suggesting that this United team can catch Chelsea under Van Gaal (it won't happen), but they will challenge for a spot in next year's Champions League.
There are plenty of positives to be encouraged by, and this team can only get better as Van Gaal continues to impose his vision.