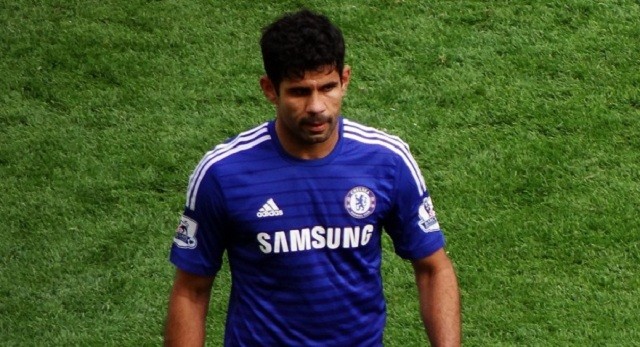 Chelsea travel to Slovenia this week to face Maribor on Champions League Matchday four (Wednesday, 2:45 EST). The Blues currently sit atop Group G, having won seven points from three games, including a 6-0 drubbing of Maribor two weeks ago. Another win for Chelsea, and a Schalke win or draw against Sporting Lisbon, sees Jose Mourinho's men clinch a place in the last sixteen with two games to spare.
However, since their domineering performance a fortnight ago, Chelsea have looked less convincing, despite remaining undefeated in all competitions. They gave up an injury time equalizer to Manchester United and needed late goals to squeak past both Shrewsbury Town in the League Cup and Queens Park Rangers in the Premier League.
One reason for these lackluster performances was due to injuries. Strikers Diego Costa and Loic Remy both missed time, while Ramires and John Obi Mikel struggled with fitness in the midfield. Costa and Ramires have both returned, though it is still uncertain if either will take part in midweek.
Given the upcoming game against Liverpool and the ease with which Chelsea beat Maribor in London, it is likely Mourinho makes a few changes to his lineup.
Goalkeeper
Cech to return to the starting lineup
Petr Cech has been relegated to the backup role, with Thibault Courtois being named the starter back in August.
Cech has seen time in both the Champions League and League Cup games, and Wednesday should be no different. Look for the ten-year Chelsea man to start on Wednesday.
Defense
This week, Jamie Carragher and Gary Neville praised Chelsea's defense, in particular, Cesar Azpilicueta.
"For technical defending, not making a mistake, not being in the wrong position, not getting caught out… I don't see him [Azpilicueta] making a mistake. And I have to say the Chelsea defenders aren't far behind him; Gary Cahill, John Terry and Branislav Ivanovic," Neville said on Monday Night Football. "But Azpilicueta, when I watch him, he's as near to perfect as possible when it comes to defending; he's immaculate."
Azpilicueta has missed the last three games due to suspension, but should return against Maribor. As has been the case for all non-league games this year, Mourinho has inserted Kurt Zouma in at center back, giving either Terry or Cahill a rest. With Terry getting a break during the upcoming international session, it is probable that Cahill is the man to make way. Ivanovic, who is enjoying the best form of his career, will get the start at right back.
Midfield
Though the plaudits typically go to the more attack minded players, it is perhaps Nemanja Matic who has been Chelsea's most consistent performer. The defensive midfielder's strength is unmatched by his opponents, and his energy seems inexhaustible. Look for him to patrol in front of the backline against Maribor.
The performances of Cesc Fabregas and Oscar make it nearly impossible for Mourinho to rest them. However, with one eye on Liverpool, the Chelsea boss will be looking to keep his attackers fresh. It should come as no surprise if Ramires replaces one of them in the center of midfield on Wednesday.
Schurrle could be handed a start
It was Eden Hazard who stole the show in their first meeting. Aside from his two goals, his darting runs towards the opposing box caused problems all night. Hazard was also in fine form against QPR, having won and then converted the winning penalty. The Young Belgian is likely to start on Wednesday, though if Chelsea are leading comfortably in second half, his night will surely be cut short.
Both Willian and Andre Schurrle have played their fair share on the right side of midfield, with thirteen and eleven appearances in all competitions, respectively. Despite taking 49 shots, the duo has just three goals to their name.
Luckily for Chelsea, scoring has not been an issue this season and Schurrle and Willian have been given ample time to sort out their inefficiencies. Schurrle is the more attacking of the two and should get the start.
A pair of teenagers, Dominic Solanke and Nathan Ake, made substitute appearances against Maribor in London. There is a decent possibility of Ake being on the bench with either Solanke or fellow under-21 star Lewis Baker come midweek.
Striker
Didier Drogba scored his first goal of the season in the previous matchup and has since scored three in four games. The Ivorian was restored to the bench when Costa made his return from injury against QPR and that same fate may befall him once again.
Costa played 78 minutes on Saturday and the game in Slovenia provides him another opportunity to increase his match fitness before Chelsea takes on Liverpool this weekend. The Spaniard will be in search of his first Champions League goal this season in what will be his third appearance.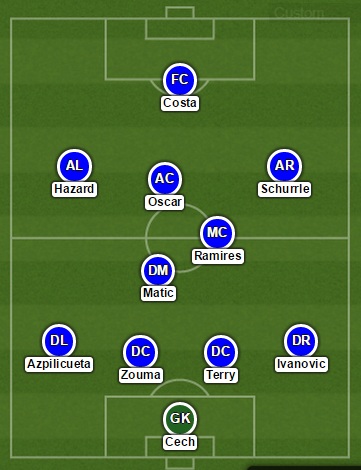 Via – Lineup Builder