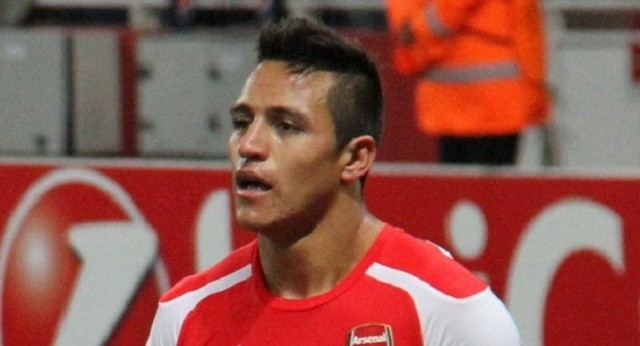 Arsenal face Anderlecht Tuesday at the Emirates for the second game verse the Belgian side in the Champions League. A win for the Gunners would almost certainly guarantee qualification to the knockout-stage.
The last time these two teams met, Arsenal came away with a scrappy win. Anderlecht was unlucky to add to their one goal lead, and probably was at fault for not finishing their chances.
They were punished by two goals in the dying minutes of the game, one from Kieran Gibbs with an exquisite volley, and the other by Lukas Podolski who showed excellent awareness, quick feet, and a little help from Alexis Sanchez, to power the ball in from close range.
Don't expect this game to be the same. Arsenal is coming into this game on the back of three wins and two clean sheets in a row, the last one done so in a convincing manner. They are slowly getting their injured players back to health, and have been led by the excellent form of Alexis.
The makeshifts back four that Arsene Wenger has been forced to play, has found its groove, and is playing with confidence and assuredness. Nacho Monreal has been particularly impressive, and Gibbs has been a bright spot on this season so far.
Don't expect Wenger to change too much; as consistency will be key in Wenger's mind and Arsenal don't play again for another 5 days after this match. This means that it is likely Wenger will stick with the hybrid 4-4-2 formation that he has employed the past two games.
Having said that, here is the probable starting eleven:
Goalkeeper – Szczesny
Wojciech returns from suspension in the Champions League after receiving a red card against Galatasary. Emiliano Martinez was not at fault for Anderlecht's goal in the previous match, and Szczesny would not have made much of a difference.
For a goalkeeper who had been in such excellent form last season, putting in confident shifts with excellent decision making, we have seen a lot of poor decisions from the Pole this season. It has become customary to see one moment of lapse in judgment by the young stopper, in every match this season. Look for Szczesny to eliminate this from his game, starting Tuesday.
Right Back – Chambers
Calum Chambers had an assist and his first goal for the Gunners on Saturday. While his best performances this season have been at center back, he is starting to grow more comfortable and is asserting himself at the right back spot.
Anderlecht targeted this flank of the field last time they met, Chambers was caught high up the pitch and out of position constantly; one has to believe that Chambers learned from this experience.
Center Back – Mertesacker & Monreal
With Laurent Koscielny out with a chronic Achilles problem until at least after the international break, the Per Mertesacker and Monreal partnership will continue. Mertesacker has grown in stature in every game since these two sides last met.
It seems that his World Cup hangover is slowly wearing off. Monreal has truly grown into his position, and if not for Alexis, he quite possibly could have been Man of the Match versus Burnley on Saturday.
He is playing with a certain tenacity and aggression that Martin Keown and Tony Adams would be proud of. His reading of the game has been excellent as well, something that has surprised some Gooners.
Left Back – Gibbs
Gibbs' performances have been predictable this season, and I mean that in a positive way, as he has been one of Arsenal's most consistent performers.
There is no reason to believe that his hip injury will hold him back Tuesday, considering he completed the full 90 minutes on Saturday.
Defensive Mid – Arteta
In spirit of the theme of continuity, the captain will continue to start. Wenger has been preaching finding balance between offense and defense, and it seems that he believes that he has found it by pairing the Spaniard with Mathieu Flamini.
Some would argue that in fact Arsenal have looked dangerous in the latter phases of the game when he has taken either the Frenchman or the Spaniard off, but Wenger will not wish to tinker with his winning formation.
Central Mid – Flamini
Aaron Ramsey will be on the bench for this one again, allowing Flamini to continue his role as a box-to-box midfielder. Jack Wilshere may make an appearance in this match as well, but considering he was injured Saturday, and Wenger wasn't sure if he would practice Monday, its unlikely we'll see him play.
Ramsey, on the other hand, will certainly make an appearance. Having Aaron on the bench allows Wenger to change the pace of the game. He will most likely feature for the last 30 minutes.
Wide Right – Oxlade-Chamberlain
Alex Oxlade-Chamberlain looked very dangerous on this side of the field Saturday, constantly driving forward with the ball, and laying it off in dangerous positions. Arsenal need to take better advantage of this, Santi Cazorla being the main culprit in wasting some of Chamberlain's excellent crosses.
It seems that both Chamberlain and Chambers have started to gain an understanding of each other, something that can only benefit the Gunners considering the youth and bright futures for both players. You can expect Theo Walcott to again come on for the Ox in the last 15 minutes as Wenger continues to allow Walcott to gain match fitness.
Wide Left – Cazorla
The Kit Manager at Arsenal will have hopefully found Cazorla's shooting boots for Tuesday. On Saturday he missed an open net sitter that he took a little too casually, in fairness to Burnley it was defended excellently.
Cazorla will drift from the left to the middle of the field depending on where Alexis is. Towards the end of the match Saturday, he mostly stuck on the left, allowing Alexis to cause havoc through the middle. This pattern should continue.
Forward – Alexis Sanchez
Alexis will play in a free roaming role that is much like a trequartista. After Saturday's match Wenger conceded that Arsenal essentially played a 4-4-2 with Alexis playing like a forward. His form has been formidable, and he has become Arsenal's heart and soul on the pitch.
The players clearly look up to him (except for Mertesacker, pun intended) and he has taken this in stride. The comparisons to Luis Suarez made by the Ox are fair and genuine; in fact Alexis is probably a better all round player. He is surely one of the signings of the season so far.
Forward – Welbeck
It is being reported that Olivier Giroud is about 3 weeks ahead of schedule, meaning Danny Welbeck will soon face some competition up front. Danny has played with heart, and shows similar effort and drive to Alexis.
He was unlucky not two score twice over the weekend; he had two shots excellently blocked on the line. Yaya Sanogo may come on late in the game, depending on the score, to give Welbeck a well-earned breather.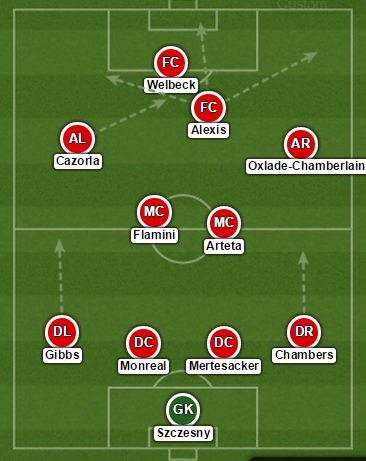 Via – Lineup Builder