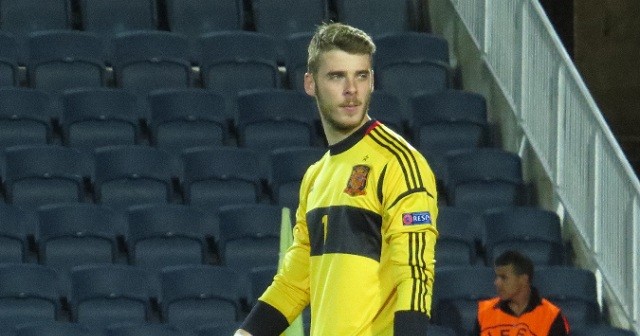 David De Gea has been a divisive figure ever since he made a big money move to Manchester United from Atletico Madrid back in 2011.
Widely considered the best young goalkeeper around at the time, De Gea struggled to come to grips with the English game initially and was vehemently criticized for his error prone performances.
De Gea endured a difficult start to life in England
However, over the last 18 months or so – De Gea has undergone through a remarkable improvement in his performances, owing to experience as well as physical development and the 23-year old is now already considered one of the best goalkeepers in the world.
As a mark of his meteoric rise in recent times, De Gea has seemingly managed to usurp Spain legend Iker Casillas as the number one between the sticks for the national team and many are excited at what the young man will go on to achieve in his career.
With De Gea making such an impression in recent times, it was reported that Spanish giants Real Madrid had been eyeing a £25million move to sign the Manchester United custodian over the summer.
And to add fuel to the speculation, the 23-year old not signing an extension with the Old Trafford outfit was seen as an indication that he would be open to a move back to Spain by joining Real Madrid.
Ge Dea had recently been linked with a move to Real Madrid
To quash talks regarding the rumors surrounding his future though, De Gea has moved on to categorically deny that he is headed for Madrid and has stated that he is perfectly happy at Manchester.
Speaking to German football magazine kicker, De Gea stated, "Those are rumours. I am happy here."
The young goalkeeper also went on to open up about his early struggles in England and admitted that although the vehement criticism hurt, he is stronger now due to all the difficulties he had to encounter initially.
He continued, "I felt bad, even though Alex Ferguson always backed me. I tried to be positive. What helped me is that I loved the daily work on the training ground, and used that to get better.
De Gea insists that he is happy at United
"Today I'm thankful for that [the criticism]. That made me stronger. Goalkeeper is tricky position. Mistakes are human. It's about being up to that. If you make mistakes you will have to improve. Now I'm better."
De Gea has made 141 appearances for Manchester United since his arrival to Old Trafford back in 2011 and will most certainly have a big role to play if the Red Devils are to finish in the top four this season.