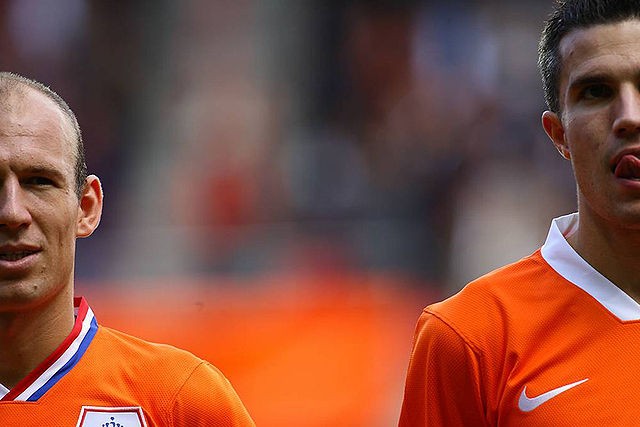 The biggest surprise of the World Cup this past summer was the how well the Dutch national team did. They were pegged to come third in their group; instead they were a 90th minute Arjen Robben chance and a penalty shootout away from the finals in Brazil. Ultimately, they came in third overall, dismantling hosts Brazil, in what was an impressive and lopsided performance. Since their impressive World Cup campaign, Oranje has struggled, losing three, to Italy, Czech Republic, and Iceland, and only winning one, against Kazakhstan in a game that they were losing for the majority of the time. After the match against Iceland, KNVB chief Bert van Oostveen, called an emergency meeting with Guus Hiddink, to discuss the future direction of the team. Nothing has publicly come out of this meeting and Hiddink will continue in the job.
The Dutch and the Dutch media are known to be harsh on their national team with relatively high expectations, albeit reasonable ones. In Dutch there is a saying, "voetbal is religie", which translates to, "Soccer is religion". During major international tournaments, while the Netherlands are playing, people are watching at work, at school's TV's are brought into the classroom so the kids can watch, and the roads are empty. Essentially the entire country shuts down for about 2 hours. The streets are decorated in orange for the month long tournaments, neighbors, and business, collaborate to ensure that there neighborhood is strung with orange banners and flags. Everywhere you look it is orange.
Having said that, you can imagine how the current form of Oranje has put the country in relative frenzy. The biggest blame has been put on Hiddink, Louis Van Gaal's successor. Former Dutch international, Ronald de Boer, has put the blame squarely on Hiddink's shoulders, claiming that Hiddink is over the hill, his tactics are obsolete, and very little instruction is given to the players.
Others have spoken up in support of Hiddink. After Oranje's loss to Iceland on Monday, captain Robin van Persie defended Hiddink, claiming he is still the right man for the job. Former Dutch international, Jaap Stam, defended Hiddink as well, claiming there is a bad vibe in the team but that Hiddink deserves time to turn the ship around and that it has to be a team effort.
I don't believe the issue is as simple as Hiddink is not fit to be manager and that there is a bad vibe in the squad. There are a number of issues at hand here. The Dutch over achieved in this past World Cup, creating unreasonably high expectations. They have just gone through three golden generations, in a row, this almost never happens and probably will not happen again. The current crop of players they have phased in are in their mid twenties, when they should be hitting their prime, and none of them are playing at top level clubs. They haven't had a solid back four in 15 years and there is no sign of it improving. Lastly, their current crop of young players coming through do not have the potential that Wesley Sneijder, Robben, van Persie, Rafael van der Vaart, and Nigel de Jong had as youngsters.
The squad's success at the World Cup is typical of large international tournaments. Because they were not picked as favorites, there was less pressure; even in the Netherlands the expectations were low. Teams such as Spain, Brazil, and Italy and of course England crumbled under high and unrealistic expectations. The Dutch did well because they were having fun, played pressure-free, and received a great jump-start to the tournament with van Persie's incredible diving header, which led to a thrashing of Spain. This is typical of large tournaments and sometimes lesser teams find a run of form. Think of South Korea, Turkey, and Senegal in 2002.
For a solid month Oranje, organized themselves in to solid and cohesive defensive unit that over relied in the attacking department on their three best players van Persie, Sneijder, and Robben. In every game one other player would step up, sometimes it was Memphis Depay, sometimes it was Georginio Wijnaldum, and other times it was Daley Blind. They were able to maintain this for a month, which is a difficult and exhausting feat. Half way through the tournament, in the Costa Rica game noticeably, you started to see cracks in the squad and their performance started to dip. However the squad unity and sheer willingness to win got them through the tournament, not their overall skill. This tournament was a flash in the pan for this current Netherlands squad and should not be an overall reflection of what the current squad can achieve.
The Netherlands has been blessed with three golden generations in a row. The first one was in the 80's and early 90's when Ruud Gullit, Frank Rijkaard, and Marco Van Basten, just to name a few, were all in the same team. This team managed to win Euro '88, Oranje's only major international trophy. The next gold generation arrived immediately with the success that Ajax had in the mid 90's. In this team we saw Dennis Bergkamp, Patrick Kluivert, Edgar Davids, Jaap Stam, Frank de Boer, Marc Overmaars, Clarence Seedorf, Edwin van der Sar, Philip Cocu, Michael Reiziger, and the list goes on. This team was exceptionally talented and was penalty shootouts away from reaching both the World Cup final in 1998 and the Euro 2000 final.
After missing out of the World Cup in 2002, we again saw an influx of young incredibly talented players. The likes of Robben, Sneijder, and Van der Vaart came in and showed their world class potentially, bringing the Netherlands surprisingly close to the Euro 2004 finals, only to lose to Portugal 2-1 in the semi-finals. This team then added more talent with van Persie replacing an aging Ruud van Nistelrooy. This golden generation reached the World Cup finals in 2010 and was two excellent Robben chances away from beating Spain in regulation. Because of these teams, expectations are always sky high, and a bit of perspective are needed when analyzing the current team.
The one issue that the previous golden generation had was a weak back four. It was there weakness in both 2010 and in 2004. The Netherlands has failed to produce top quality defenders since Frank de Boer and Jaap Stam were the central partnership in the 1998 World Cup. This pattern has continued. Bruno Martins Indi will not develop into a top quality defender. He has energy, drive, and is willing to learn but his instincts are lacking.
Daley Blind is a solid player but is nothing special; the same can be said about Gregory van der Wiel. Stefan de Vrij is the only defender that could possibly develop into a top quality defender, however he is not quite there yet and is still mistake prone. Ron Vlaar is a limited defender who impressed in the World Cup but has not been able to match that form during his career. He is also entering his 30's. Other youngsters such as Terence Kongolo, Virgil van Dijk, and Joël Veltman are unproven and so far haven't showed that they can provide the team with a solid back four that other teams would fear.
However the two glaring issues with current Oranje squad is this. The current young players coming through do not have world class potential, and the squad's best players are getting old.
Of the young players that stand out with possessing exceptional talent, only Memphis comes to mind. Kevin Strootman is an excellent midfielder but injuries have hampered him so far and he hasn't been able to make an impact on Oranje. The talent is simply not there and that is the real issue.
Players like Jordy Clasie, Leroy Fer, Wijnaldum, Blind, Jeremain Lens, and Luciano Narsingh, have all been playing for a while now at the top level in the Netherlands but have failed to break through to larger clubs and are hitting ages of around 24 and 25 where they will enter there prime. These are all good players but nothing special. That is the problem, as none of these players could change a game on their own.
Sneijder, Robben, and van Persie are entering the end of their primes and cannot be asked to carry the team in every game, that is an impossible task for them and does not benefit the others players. Rafael van der Vaart does not feature for the national team as much because of injuries, and lack of playing time with his club occasionally. Simply said, younger players need to step, and no one is because there aren't any players to do so.
In summation, Guus Hiddink is not the problem. The Netherlands just experienced three golden generations and has been spoiled. They have not produced the youngsters in recent years to transition into the most recent golden generation and are simply lacking in quality. Louis van Gaal did an exceptional job with the squad at the World Cup, and Hiddink was left with a daunting task ahead of him. The Netherlands do have good players in the squad, this is not the issue, the issue is that they do not have potential world class players who could change a game like Sneijder, Robben, van Persie, and van der Vaart did during their international careers. The Netherlands will rebound and qualify, however, it will be difficult and ugly at times.